WOODLANDS TEXAS - A BIKE TOUR | SHOWING YOU MY FAVORITE PLACES
Posted by Jordan Marie Schilleci on Monday, October 5, 2020 at 9:34 AM
By Jordan Marie Schilleci / October 5, 2020
Comment
Hi friend! Are you trying to figure out where to live in the Houston, Texas Suburbs? Well in this video I take you on a bike tour of The Woodlands. I hope you enjoy!
If you need help navigating the local real estate market, or you are feeling a little overwhelmed, feel free to reach out to us via e-mail or by scheduling a call. We also have a very resourceful YouTube page, and many other blog posts to help guide you. Welcome to the Jo & Co. experience!
Hi friend! Oh my gosh. I shot this video a bit ago and the editing near drowned me. Lol. I know the editing is nothing special so don't judge, but I did pour my heart into this bike tour of The Woodlands, that I shot vlog style for you!
Here is a list of my favorite places y'all should check out when you visit The Woodlands, TX.
- This first area is the Town Center Village
- The Waterway District
- The Mall - Market Street
- Cynthia Woods Mitchell Pavillion
- East Shore
- Hughes Landing, aka, Reataurant Row
- North Shore Park
- Sterling Ridge Village Center
- Creekside Park Village Center
Don't forget about all the amazing golf courses and country clubs. There really is so much more to share and show about The Woodlands. I barely scratch the surface. I love y'all!!
P.S. Yes I do realize this vlog is 3 hours long. Sorry not sorry.. You are welcome.. And I had a blast recording it! Seriously love y'all. This one was for you.. a little bit for me.. Well the excuse to ride my bike around beauty and ignore my work phone calls and emails.. that part was probably the part for me.. Lol.
At Jo & Co. we know that most poeple struggle with the home buying or selling experience.
We are a brokerage, real people, that do more for you, by being with you every step of the way, so that you plant your roots in the right soil.
One way that we go above and beyond is with the content we share on YouTube. Click the photo below to explore our channel.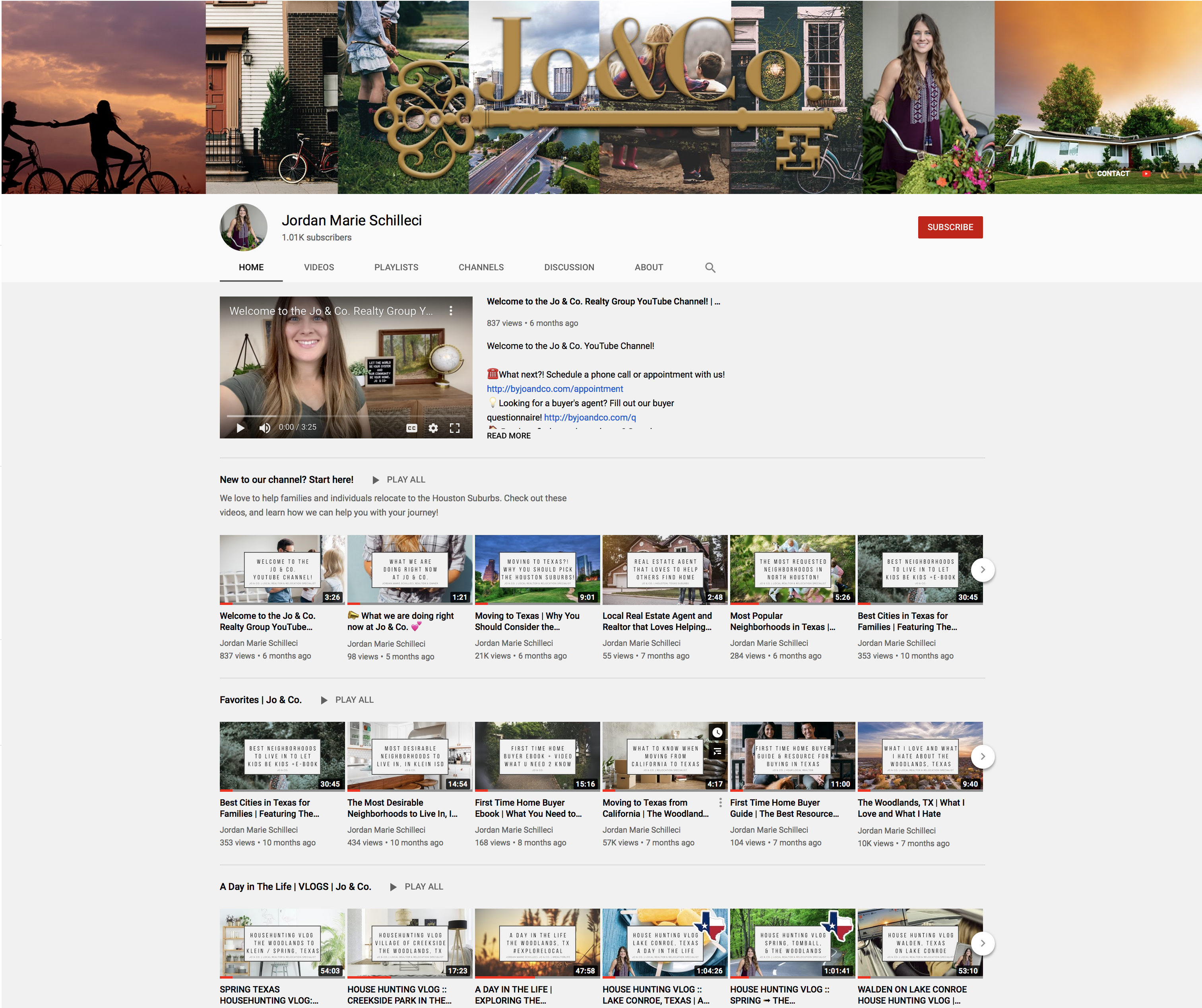 If you are new to buying or selling, if you are relocating to our area, or if you are just looking for a professional real estate experience, we look forward to meeting you and hearing your story.
- Jordan Marie Schilleci, REALTOR®, Jo & Co. Realty Group
What next?!
Below you can see all the homes for sale in The Woodlands Area. You can start a fresh search on http://search.byjoandco.com, or hit "refine results" to manipulate the search below.
Homes for Sale in The Woodlands, Texas