What to do in The Woodlands? | Things you MUST experience.
Posted by Jordan Marie Schilleci on Monday, November 9, 2020 at 11:57 AM
By Jordan Marie Schilleci / November 9, 2020
Comment
Hi friends! This one was fun to write.. you would be surprised by how many locals don't know about some of these things and it's exciting to share all the things that The Woodlands has to offer. Plus all my relocating clients, this ones for you!!
If you visit any of these places, take pics, tell your friends and family, AND of of course, share your experience with me!! (:
All the Details.
1. Hughes Landing
This is an all-in-one stop. You can eat at "restaurant row" or see the architect at the Band Shell, and maybe if you feel like being outdoors then Lakes Edge Boat House is right up your alley - boasting kayaks, paddle boats, and more, this is an awesome adventure that you can do alone or in a group, not to mention you'll see the awesome hi-rise apartments located along Hughes Landing.
2. Market Street
Market Street is home to various eating spots and shopping stores galore. If you like shopping, and you enjoy a pretty scenery while doing it, then Market Street is calling your name. During the holidays, the Ice Rink is open to the public to skate at and enjoy the winter cheer. Town Greene Park is open year round and hosts different events, while also just being beautifully centered next to The Waterway and Riva Row Boathouse.

3.The Waterway
This runs for such a long span and provides for a nice and serene stroll. You could follow it and end up at The Woodlands Mall and the local restaurants, or you can go in the opposite direction and pass by Town Green Park, The Koi Garden, ( located on the south side near the tall buildings/apartments ).

3.Parks
Nestled right on the lake and next to Hughes Landin, visit North Shore Park and check out the lake view while the kids play.
Timarron Park is located in Creekside Park, and features a splash pad, a playground and lots of trees to keep you shaded and cool.
Town Green Park is centrally located on The Waterway, near Market Street and provides easy access to many of The Woodlands' features. This park houses the storybook garden maze and has ample amounts of art benches and sculptures that you can enjoy while roaming and adventuring through the area.
The Woodlands is homes to so many fun and beautiful sites to see, if you would, consider sharing your photos with me! (:
At Jo & Co. we know that most poeple struggle with the home buying or selling experience.
We are a brokerage, real people, that do more for you, by being with you every step of the way, so that you plant your roots in the right soil.
One way that we go above and beyond is with the content we share on YouTube. Click the photo below to explore our channel.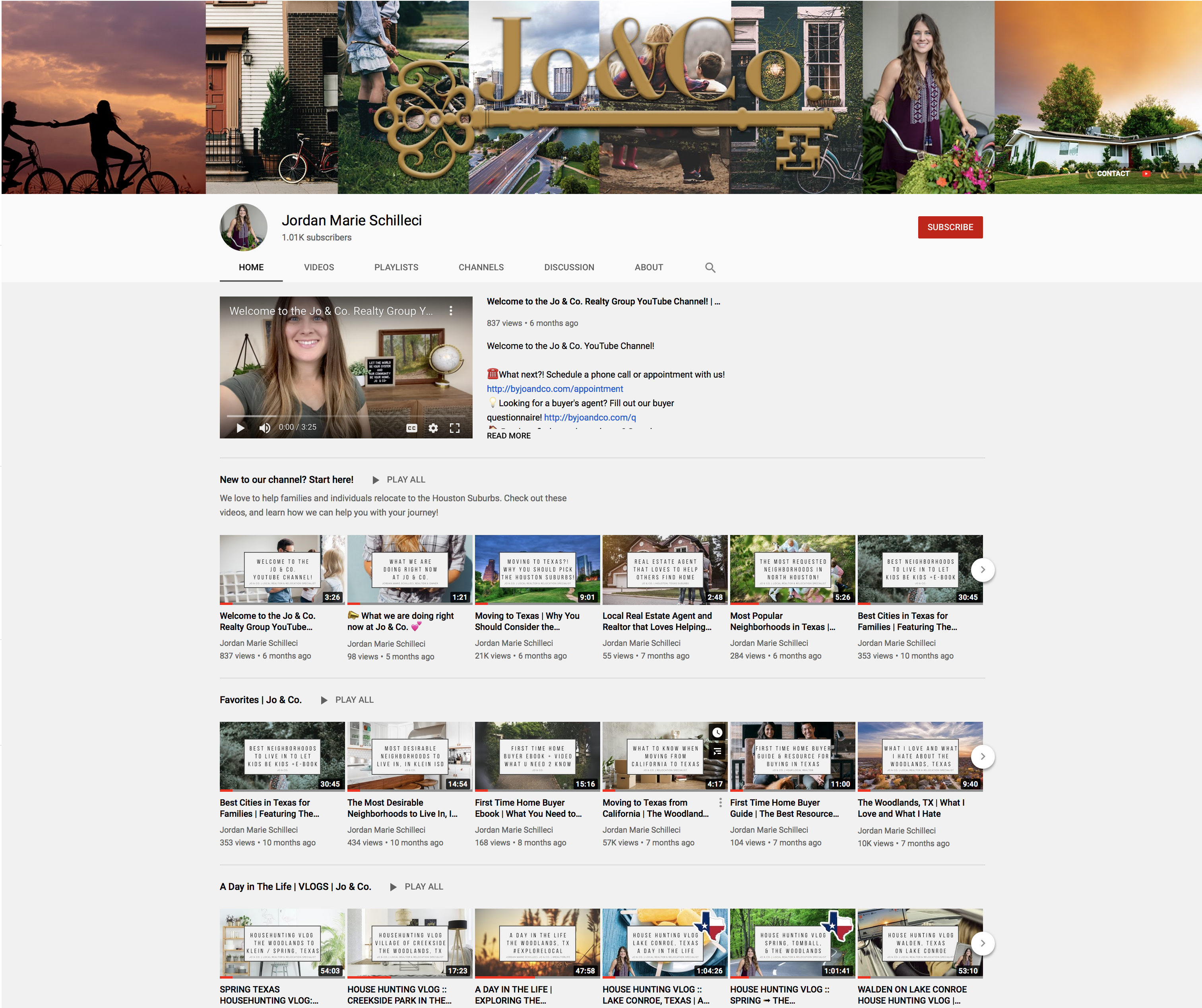 If you are new to buying or selling, if you are relocating to our area, or if you are just looking for a professional real estate experience, we look forward to meeting you and hearing your story.
- Jordan Marie Schilleci, REALTOR®, Jo & Co. Realty Group
What next?!
Below you can see all the homes for sale in The Woodlands Area. You can start a fresh search on http://search.byjoandco.com, or hit "refine results" to manipulate the search below.
Homes for Sale in The Woodlands, Houston, Texas.