Village of Creekside Park Real Estate Market Update | November 28, 2022
Posted by Jordan Marie Schilleci on Monday, November 28, 2022 at 5:27 AM
By Jordan Marie Schilleci / November 28, 2022
Comment
Hi neighbor,
Today I will be sharing with you our perspective on the local real estate market here in The Woodlands, Texas, specifically a market update for the neighborhood (Village in The Woodlands) of the Village of Creekside Park. Whether you are looking to buy, sell, or just keep an eye on the market, we look forward to being your resource.
What is happening in the real estate market in Village of Creekside Park?
We currently have 14 homes pending, with 5 homes sold in the last two weeks, averaging a sale price of $211 a square foot. Five homes sold over the asking price, with one home selling 8% above the listing price.
Compared to the two weeks prior: Homes sold are up from 3 homes sold to 5 homes sold and the average sales price per square foot is also up: $211 ($199 previously). Every home is different, with different features, so don't forget to ask us for your annual equity review if you are curious about your personal home. You can text AER to 79564 or email us here.
If we look at how fast the move-in ready homes are going, the demand in this area has not surpassed the supply, making it still a great time to sell. Buyer agents around Houston are seeing a slow in the real estate market, but it isn't affecting every neighborhood. I know the interest rates rising has been one deterrent from some buyers purchasing right now, but that isn't your ideal buyer anyways!
The most desirable homes in the area are still selling the first weekend or first week they hit the market (a really good coming soon campaign, like we do at Jo & Co. allows you to sell faster, for more money).
Check out the graphic below for a larger overview of the real estate market for the last two weeks in Village of Creekside Park.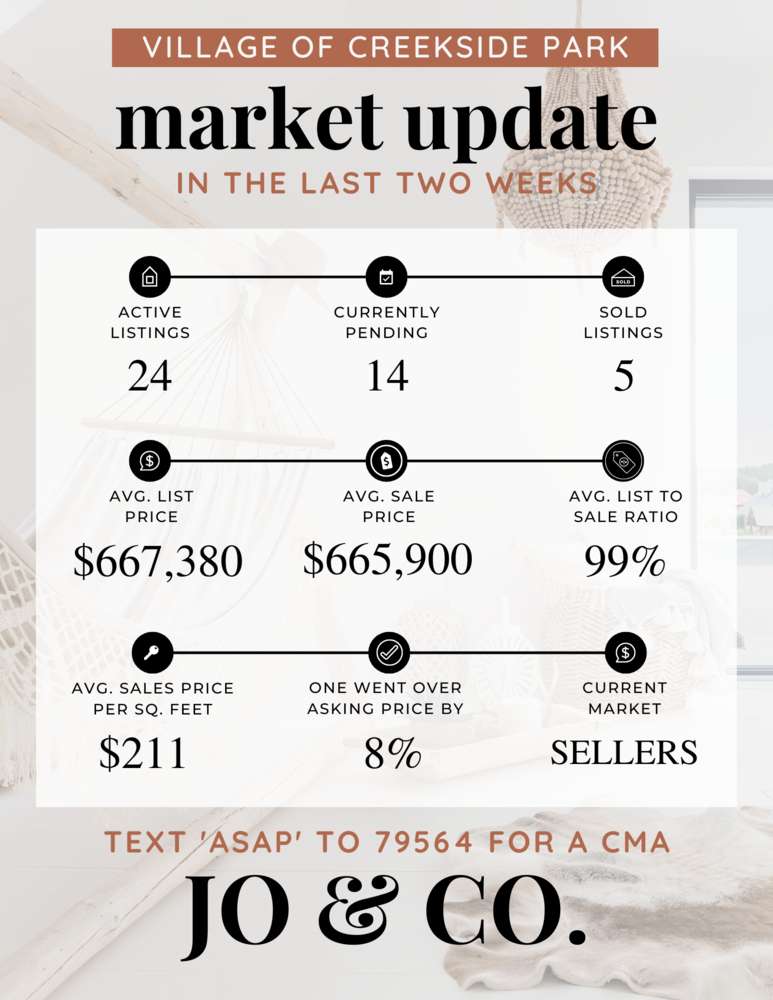 Jo's Two Cents
Interest rates have finally dropped! Now is the time to look for a sweet spot. It's been a couple of years since we have seen a "buyer's market, and due to interest rate hikes, we are very near that now. You will see that shift back to sellers, or neutrality with rates dropping, but there is a lag. Take advantage of this indeterminate territory and you will be able to make a purchase while homes are trending up in price and interest rates are trending downward. You can refinance out of a bad rate, but you can't renegotiate the price of your home 2 years from now when you realize that you overpaid because of a competitive market. When you take into consideration things like rent and equity, your interest rate would have to be over 10% to create a net loss annually. The bottom line is that buying now is still smart, regardless of what economists are saying. These are not historically high rates, this is NOT 2008, and there is no bubble to burst.
Inflation is going down, and there is a direct correlation between interest rates and home prices. As rates drop you will see home prices start to go up again. Your gas and milk will cost less, but your home will cost more. It's estimated that the average family will spend an extra $11,500 this year to maintain the same standard of living as last year, that's 958 dollars a month. Meanwhile, the average price of a home in the Houston area rose 16.7% in 2021; remember interest rates were amazing. Fast forward to now, the difference between Q1 and Q2 2022 is 5.4%. So you will be trading the $11,500 you've been paying to maintain your standard of living for a $24,000 price increase in your new purchase, or around 50,000 added to life of your loan. So, what is the point? If you want, and can afford to buy a house, then buy a dang house. The same people telling you to wait are the same people buying up all the inventory and making them into rentals.
Cash buyers are up, both investors and people relocating from coastal states make up the majority of cash buyers. This has probably been the most disruptive condition contributing to our crazy market. When buyers are willing to buy at prices that don't reflect appraised values, a volatile market is created. This is what happens when coastal residents cash out because they can buy a home here twice as big, and for half the price. This is what happens when first-time home buyers decide to just rent. In almost every scenario the rent paid will exceed the mortgage. This makes investing a no-brainer, and further shrinks an already dwindling market for first-time home buyers.
People are staying in their homes 10 years longer than before. This may sound trivial, but it actually has a massive impact on the market. Whether it's people working later into their lives, the ever-growing presence of multi-generational housing, or folks realzing it's easier to age in place, this will naturally create a market biased towards sellers. After all, it is all about supply and demand. Most subdivisions have restrictions in place designating homes as single family, but we have never seen this enforced. We are expected to see a shortage in new construction in 2023, which is the best way to combat this effect. So not only will you have people staying in their homes, but new home construction will be at a standstill due to builders slowing their construction. We could see record-level low inventory, which will result in record-breaking home prices.
False Information
According to Moody's Analytics Chief Economist Mark Zandi, "This may be the worst time in my living history for the home buyer — it just doesn't make sense." He said, "Mortgage rates are sky high, prices are sky high, and there's no inventory." Unfortunately, a similar thought is shared by many but remains wildly inaccurate. Mr. Zandi is 63 years old, which means he would've potentially bought, but certainly lived through the 1980's. That means he has seen rates over 16%, which were actual historic highs.
The Big Why
Why are people trying to dissuade you from buying a home? Why are people telling you that these rates are outrageous when historically they aren't even half of what people had to deal with? You'll have to take that winding road to conspiracy town by yourself, but here at Jo & Co. we are still here to help and encourage you to work towards securing your financial future.
A loan option I want to share with you:
We are seeing a lot of builders/lenders advertise the 2/1 buydown. Let's cover the pros and cons:
Pros – lower payment for the first 2 years which may help you mentally pull the trigger despite your concerns over "higher rates".
If the builder (or any seller for that matter) is willing to pay the 'buydown deposit' then it can be a good deal for the buyer.
If the buyer refinances within the first two years any amount remaining in the buydown fund will applied to the principal so the money isn't lost.
Cons – the borrower still has to qualify at the full interest rate.
In some instances borrowers would be better off taking the concession from the builder and applying it to closing costs if they are really tight on funds to close upfront.
Bottom line – the 2/1 can be a tool but just like any other mortgage program we really need to tailor it to the particular borrower and their needs. And what could a buydown like this look like? In one scenario I saw last week, the buydown cost $8,432.
Preferred Lender - We have a lender we can recommend to you, that can even contribute up to $3,000 towards your buy-down or closing costs. We also know builders willing to give $10k, $20k, and even $30k towards closing costs, buy downs, down payments, etc. (Long story short, please reach out to us!)
What is happening in the real estate market nationally?
Mortgage rates trended higher last week. Home builder sentiment slipped lower in October, mortgage application submissions decreased, building permits increased, and housing starts fell. Continuing jobless claims increased while initial jobless claims fell. Existing home sales
slipped slightly.
| | |
| --- | --- |
| MORTGAGE RATES CURRENTLY TRENDING | THIS WEEK'S POTENTIAL VOLATILITY |
| | |
Notable News
Buyers are in a much better position than a few months ago. Read Now >>
How will inflation data continue to affect mortgage rates? Listen Now >>
For-sale homes are spending more time on the market. Read Now >>
Market Recap
Home builder sentiment decreased to a level of 38 in October, lower than the expected level of 44. All three components dropped on the NAHB housing market sentiment index – current sales conditions fell 9 points to 45, sales expectations in the next six months dropped 11 points to 35, and prospective buyer traffic decreased 6 points to 25.
Mortgage application submissions fell 4.5% during the week ending 10/14. Refinance application submissions decreased by 7% and purchase application submissions decreased by 3%.
Building permits increased 1.4% month-over-month in September to a seasonally adjusted annual rate of 1.56 million units. Experts had predicted a decrease to 1.53 million units. Housing starts fell 8.1% month-over-month to a seasonally adjusted annual rate of 1.44 million units.
Continuing jobless claims increased by roughly 20,000 during the week ending 10/8, climbing to a level of 1.39 million. Initial jobless claims decreased by 12,000 to a level of 214,000 during the week ending 10/15.
In September, existing home sales were at a seasonally adjusted annual rate of 4.71 million units, a 1.5% decline from August but a higher-than-expected level according to economists' expectations.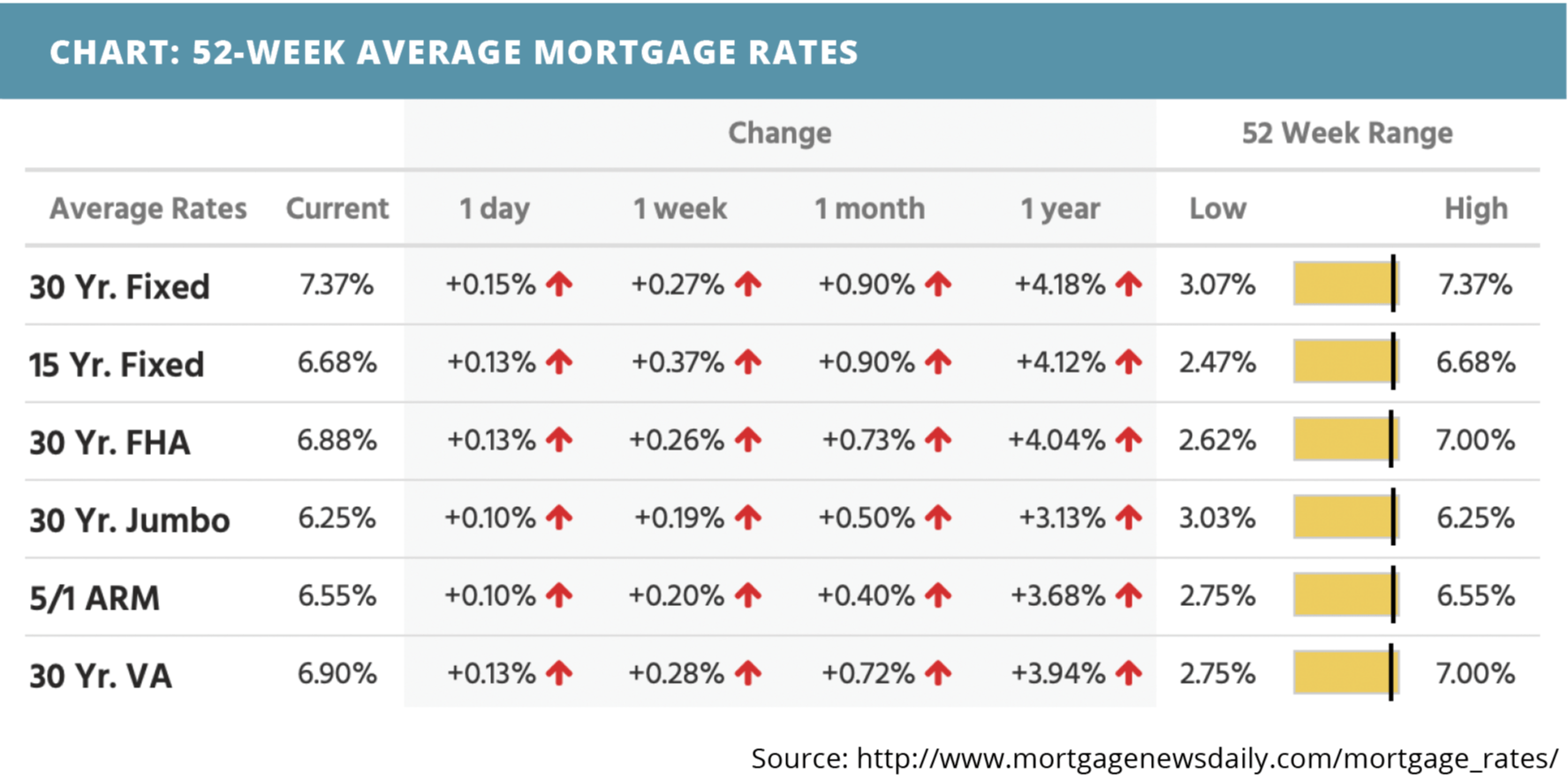 Review of Last Week
ANOTHER WINNER... Stocks scored their second weekly gain in three, as economic growth concerns took a back seat to positive economic reports and encouraging minutes from the Fed's last meet.
The minutes revealed: "a substantial majority of participants judged that a slowing in the pace of increase would likely soon be appropriate." This supported hopes the Fed would dial back to a half percent hike in December.
Disappointments came with higher jobless claims and lower preliminary reads on manufacturing and services. But New Home Sales, Durable Goods Orders, and University of Michigan Consumer Sentiment all beat estimates.
The week ended with the Dow UP 1.8%, to 34,347; the S&P 500 UP 1.5%, to 4,026; and the Nasdaq UP 0.7%, to 11,226.
Bonds experienced a positive week, UP 1.0% overall , the UMBS 5.5% UP 0.13, to $100.27. The national average 30-year fixed mortgage rate edged down after its big plunge the prior week in Freddie Mac's Primary Mortgage Market Survey. Remember, mortgage rates can be extremely volatile, so check with your mortgage professional for up-to-the-minute information.
DID YOU KNOW… Realtor.com reports active inventory keeps growing and is now 45% ahead of where it was a year ago. Buyers are getting more choice as well as more time to choose, since homes spent eight more days on the market than this time last year.
Market Forecast
CHECKING PENDING HOME SALES, CONSTRUCTION SPENDING, INFLATION, MANUFACTURING, AND JOBS… Expect October Pending Home Sales to recede, though less than the month before. Construction Spending is forecast off, but we'll look at the residential part. The Fed's favorite PCE Prices inflation measure should still head up, but Personal Spending is predicted to show consumers are staying in the game. The ISM Manufacturing Index is expected to be in contraction territory, but Nonfarm Payrolls should post a moderate gain.
Summary
New Home Sales surprised to the upside in October, increasing 7.5%, to a 0.632-million-unit annual rate. Sales are still down a bit from a year ago, but it looks like market activity might be beginning to stabilize.
The inventory of completed homes has started to rise, and this additional inventory is helping a decelerating trend in home prices. Also helping affordability, mortgage rates recently dropped about 50 basis points (0.50%).
That drop in mortgage rates is driving up demand, as mortgage applications were up 2.2% for the week ending November 18 after booking a 2.7% gain the prior week. Even refinance demand increased 1.5% for the week.
Can we sell yours?
So if you are in need of a listing agent, we would love the opportunity to see your home and meet you of course. My husband, Edward, and I, look forward to being the brokerage and team for you! You can reach out to us via email: [email protected] & [email protected] or telephone: 832-493-6685.
Read more:
If you are curious 'How to get more money for your home when listing it for sale', check out this blog post.
I hope you have found this blog post super helpful. If there is anything else we can do for you, including helping you sell (or buy) a home, I would be honored to assist. I hope you have a great day/evening. Cheers, E + J.
We are so happy you found our little corner of the interwebs. We look forward to y'all reaching out to us. We love to answer questions and welcome them. Recently we created some local maps, and you can download those by clicking the image/link above. Below, you will find an index of some very helpful information to assist you in learning more about the Houston suburbs. If you are relocating to our neck of the woods, we hope you reach out to us, because we would love to help you by being your local realtor and friend. Thoughtfully written for you. Hugs, Jo.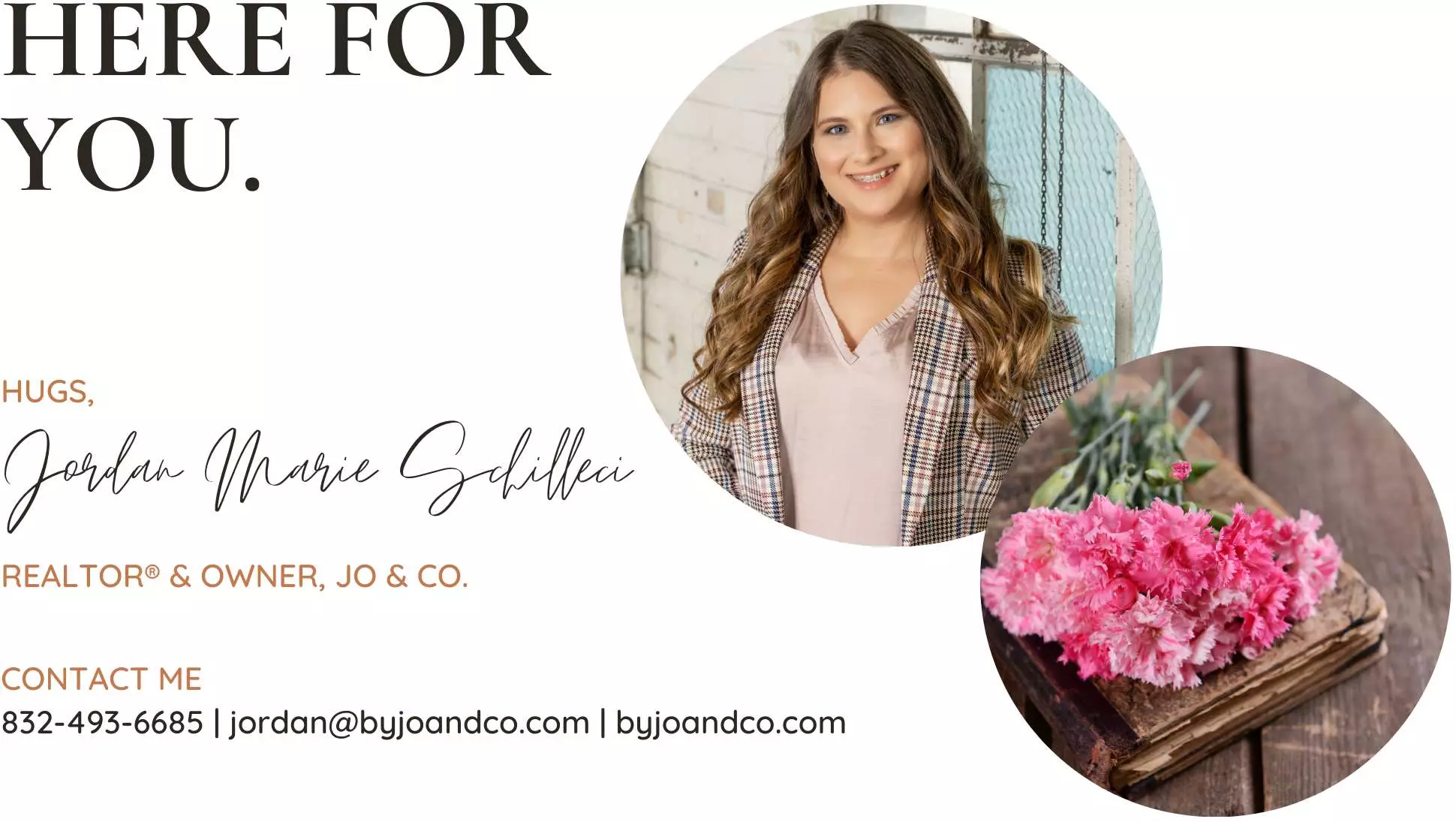 We are Waiting for You
If you are looking to relocate to the Houston Area, we would love to meet you, and hear your story. Below you will find all of my contact information, as well as some homes for sale in the area. We truly look forward to hearing from you! P.S. Don't forget to check out our YouTube Channel!

If you are overwhelmed..
Now if you are feeling overwhelmed on where you should plant your roots, I would love to talk to you. You can schedule a call with me by click this link: http://byjoandco.com/call or just send us an email: [email protected]. There are some amazing communities all over the Houston suburbs. In this post, https://search.byjoandco.com/blog/best-neighborhoods-in-houston/, I deep dive into all the different suburbs/neighborhoods that you might want to consider, and why. There are many resources here, so please reach out if you are curious what to look at next! Thank you for trusting us.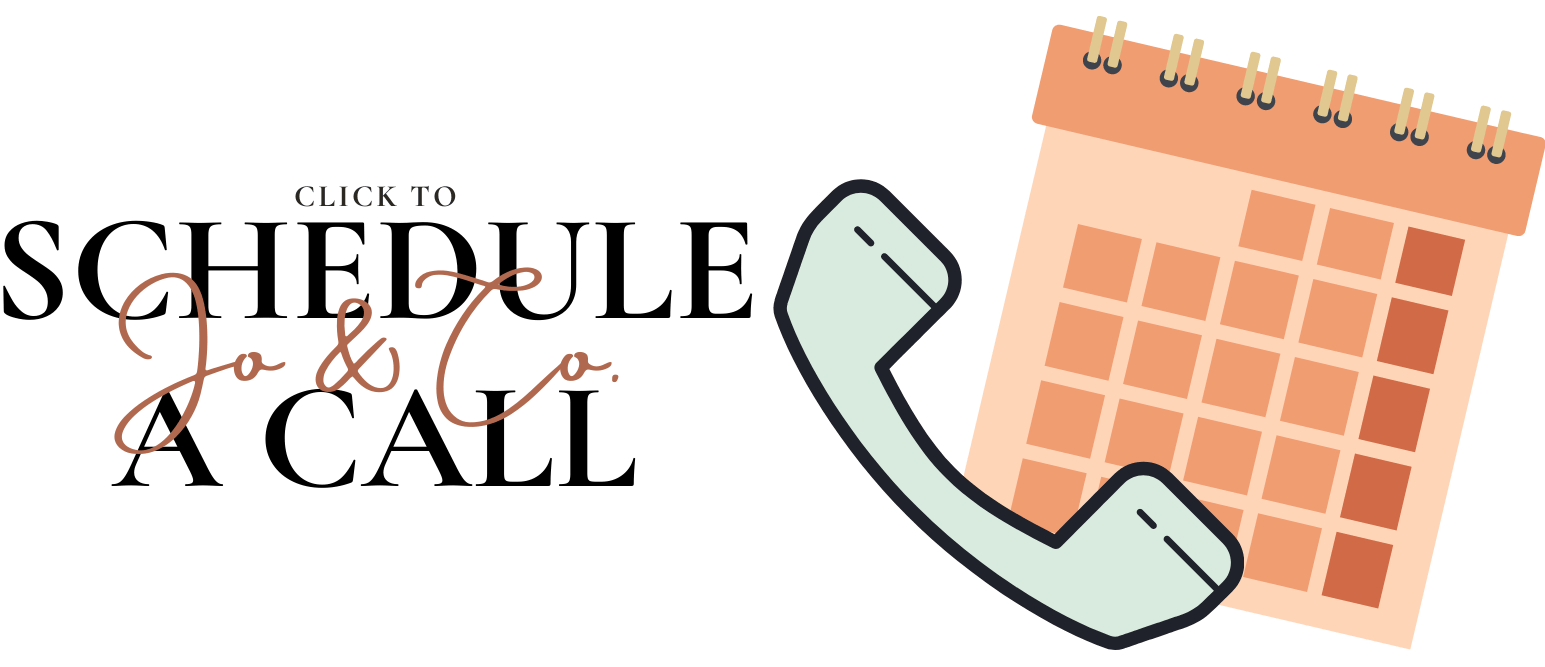 What next?!
• Navigate our Blog: https://byjoandco.com/categories-to-help-you-navigate-the-blog/
• Download our Moving to Texas ebook! http://byjoandco.com/movingtotexasebook.
• Download our Where to Live in Houston Texas ebook! http://byjoandco.com/wheretoliveebook.
• Browse our Ebooks and Relocation Guides: http://byjoandco.com/ebooks
• Schedule a phone call or appointment with us! http://byjoandco.com/appointment.
• Email us! [email protected].
• Looking for a buyer's agent? Fill out our buyer questionnaire! http://byjoandco.com/q.
• Ready to find your dream home? Search, http://search.byjoandco.com.
• Subscribe to our YouTube Channel: http://byjoandco.com/youtube.