Lake Conroe, Montgomery & Conroe & Willis, TX | Best Lake Conroe Neighborhoods with Homes for Sale
Posted by Jordan Marie Schilleci on Friday, August 7, 2020 at 11:21 PM
By Jordan Marie Schilleci / August 7, 2020
Comment
Hi there. Welcome to the Jo & Co. blog, where we share where you can find the best neighborhoods. Today we will be featuring The Lake Conroe Area, TX. Lake Conroe is on the west fork of the San Jacinto River. It was built as a joint project of the City of Houston, the Texas Water Development Board, and the San Jacinto River Authority in 1973 as an alternate water source for the City of Houston.
The lake has over 22,000 acres of surface water, is 26 miles long and 6 miles wide at the widest point. The average depth of the lake is 20 feet deep; the deepest spot is 70 feet in the river channel. There are 157 miles of shoreline along Lake Conroe.
The lake is bordered on the north by Sam Houston National Forest, which provides an abundance of wildlife such as deer, several species of birds, even alligators. The lake has some of the best fishing around with species such as blue, channel and flathead catfish; striped, white and large-mouth bass; crappie and smallmouth buffalo.
For a full history of Lake Conroe and Conroe, click here.
Below you will find our list of Best Neighborhood in Lake Conroe. This list was gathered from sales data, and client reviews. If you have any questoins or would like to go look at homes (virtually or in person), we would love to be your realtor.
Best Neighborhoods in Cypress, TX
Walden & The Estates of Walden
Bentwater
Grand Harbor
April Sound
Corinthian Point
Point Aquarius
Lake Shore Cove
Pebble Glen on the Lake
All homes for sale in The Lake Conroe Area | Link to Homes for Sale
New Construction Neighborhoods on Lake Conroe - 2020
Falcon Sound on the Lake
Bentwater
Water Crest on Lake Conroe
Golf Course Communites in Lake Conroe
Bentwater
Walden
Del Lago
April Sound
Honorable Mentions :: Great Neighborhoods
Del Lago & Del Lago Estates
Blue Heron Bay
Water Oak
White Oak Ranch
Shelter Bay Estates
Bella Vita
Clear Water Cove
Cape Malibu
Conroe Bay
Enchanted Cove
Far Hills
Gemstone Estates
Harbor Side
Longmire on Lake Conroe
Pelican Bay
Seven Coves
South Shore Estates
Twin Shores
Wedgewood Falls
At Jo & Co. we know that most poeple struggle with the home buying or selling experience.
We are a brokerage, real people, that do more for you, by being with you every step of the way, so that you plant your roots in the right soil.
One way that we go above and beyond is with the content we share on YouTube. Click the photo below to explore our channel.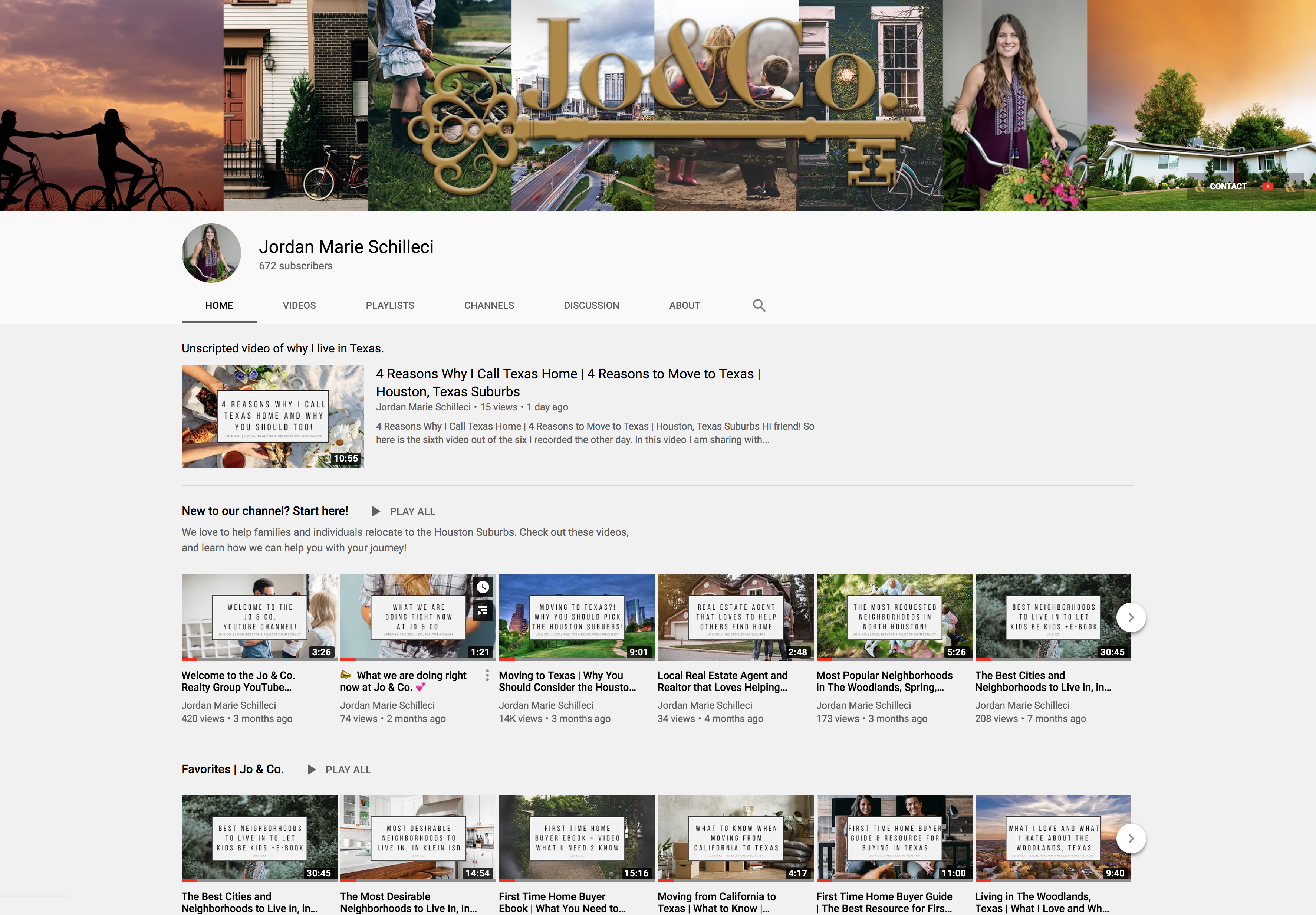 If you are new to buying or selling, if you are relocating to our area, or if you are just looking for a professional real estate experience, we look forward to meeting you and hearing your story.
- Jordan Marie Schilleci, REALTOR®, Jo & Co. Realty Group