How is the [housing] market? | November 25th, 2022
Posted by Jordan Marie Schilleci on Tuesday, November 29, 2022 at 5:59:05 PM
By Jordan Marie Schilleci / November 29, 2022
Comment
What is happening right now is what you have been waiting for. Inflation is going down. Prices are going down on many homes, and on all new construction homes. Interest rates are going down. But let's break down exactly what is happening right now.. exactly what is creating the perfect time to buy a home. And if you need a home in the next 6-12 months, I recommend reading this, and acting, because we will see prices go back up.
What is happening with inflation?
The annual inflation rate in the US slowed for a 4th month to 7.7% in October, the lowest since January, and below forecasts of 8%. It compares with 8.2% in September. Energy costs increased 17.6%, below 19.8% in September, due to gasoline (17.5% vs 18.2%) and electricity (14.1% vs 15.5%). A slowdown was also seen in food (10.9% vs 11.2%) and used cars and trucks (2% vs 7.2%). On the other hand, prices for shelter (6.9% vs 6.6%) and fuel oil (68.5% vs 58.1%) increased faster. Compared to the previous month, the CPI rose 0.4%, below expectations of 0.6%. Shelter contributed over half of the increase (0.8%) and gasoline rose 4%, after falling in the previous 3 months. At the same time, the cost of medical care services (-0.6%) and commodities (0%) pushed the CPI down. Still, figures continue to point to strong inflationary pressures and a broad price increase across the economy, mainly in the services sector while prices of goods have benefited from some improvements in supply chains. source: U.S. Bureau of Labor Statistics
Why does inflation matter when talking about the housing market?
Do you know what drives the housing market? It is supply & demand. Do you know what drives demand? It is driven partly by interest rates. Do you know what drives interest rates? It is driven by inflation.
Last week the fed hiked rates by .75% and interest rates fell .5% to .75%. And this is because inflation fell. Want to learn more about this? Increased inflation causes the buying power to erode. So inflation goes up, mortgage rates go up.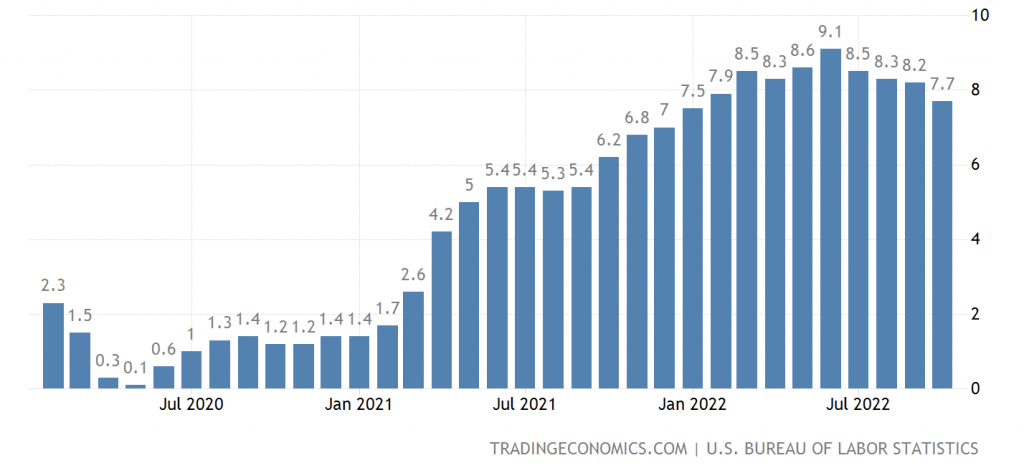 A little backstory. Inflation started rising uncontrollably beginning in February of 2021, but we did not see the effects until 2022. Maybe you are wondering why. And the answer is two little letters: QE. QE stands for QE period, and QE period is a period of time where the FED was buying mortgage bonds, therefore rigging the market. QE stands for quantitative easing", which I will explain in the next sentence. During 2021 (during COVID), the fed tried to fix interest rates near 3%. So the FED was busy buying the mortgage market, while inflation started going up. The FED ignored the inflation rate increase, and continued the QE, instead of stopping it. This really fueled the inflation rate's rapid increase. Once they stopped buying mortgage bonds, (once they stopped fixing the market), we saw mortgage rates rapidly increase. The mortgage rates went to catch up with inflation. Typically we see a 2-point difference between the interest rates and inflation. Interest rates are typically 2 points below inflation. But the good news is, inflation is starting to come down (Thursday, a week ago), so mortgage rates are coming down.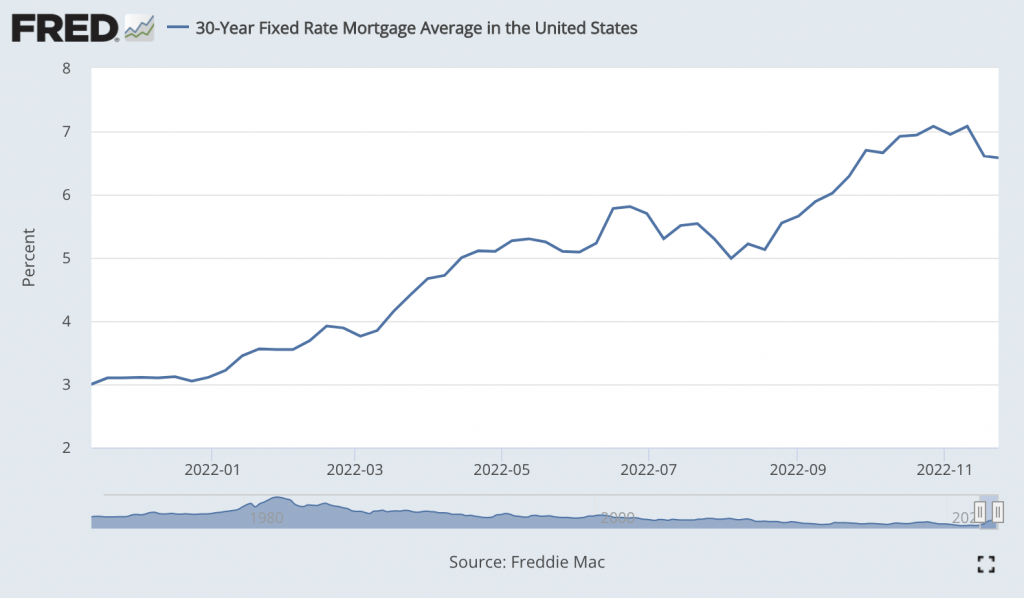 So what is inflation you might be wondering? Inflation is too many dollars chasing too few goods. We also see a reflection in housing prices: too many buyers and not enough houses, make the prices shoot up.
Right now, the FED is trying to take control of what they lost control of. They want us to cut back on spending, and they want us to save money. They want people to specifically save federally via bonds and such. One way they are doing this is by making it difficult to borrow money or "take out credit".
Did you know, that out of every 17 dollars floating around in our economy, 16 of them are on credit? America is running on credit. Which we know just by looking at the deficit of the United States.
Business loans are more expensive right now because they are based 100% on the federal funds rate. Mortgage rates are not. Business loan interest rates are 2% above the federal rate fund.
So when the FED hikes interest rates, less business borrowing happens. This means less stimulation of local economies. which means less growth. This in turn means less hiring.
Six-month and 1-month treasuries are returning 5% right now. This will push more people to save. Creating stagnation.
But what is happening outside of the United States affects us too. Lockdowns in China, which were causing a slowdown in supply chains are being lifted, causing improvement in supply to the United States. More stuff getting to our shelves means we are seeing more of a balance of supply and demand. This is one reason why inflation is coming down. So this is why mortgage rates are coming down. But as we see supply go up, and prices come down, demand is going to follow, causing costs to go up again, and supply to go down. If we had enough supply, we would see balance. But we haven't seen balance in multiple years. I personally wonder if this is partially driven by greed.
To buy or not to buy?
Interest rates have finally dropped! Now is the time to look for a sweet spot. It's been a couple of years since we have seen a "buyer's market, and due to interest rate hikes, we are very near that now. (More in certain neighborhoods than others.) You will see that shift back to sellers, or neutrality with rates dropping, but there is a lag. Take advantage of this indeterminate territory and you will be able to make a purchase while homes are trending up in price and interest rates are trending downward. You can refinance out of a bad rate, but you can't renegotiate the price of your home 2 years from now when you realize that you overpaid because of a competitive market. When you take into consideration things like rent and equity, your interest rate would have to be over 10% to create a net loss annually. The bottom line is that buying now is still smart, regardless of what economists are saying. These are not historically high rates, this is NOT 2008, and there is no bubble to burst.
Inflation is going down, and there is a direct correlation between interest rates and home prices. As rates drop you will see home prices start to go up again. Your gas and milk will cost less, but your home will cost more. It's estimated that the average family will spend an extra $11,500 this year to maintain the same standard of living as last year, that's 958 dollars a month. Meanwhile, the average price of a home in the Houston area rose 16.7% in 2021; remember interest rates were amazing. Fast forward to now, the difference between Q1 and Q2 2022 is 5.4%. So you will be trading the $11,500 you've been paying to maintain your standard of living for a $24,000 price increase in your new purchase, or around 50,000 added to life of your loan. So, what is the point? If you want, and can afford to buy a house, then buy a dang house. The same people telling you to wait are the same people buying up all the inventory and making them into rentals.
Cash buyers are up, both investors and people relocating from coastal states make up the majority of cash buyers. This has probably been the most disruptive condition contributing to our crazy market. When buyers are willing to buy at prices that don't reflect appraised values, a volatile market is created. This is what happens when coastal residents cash out because they can buy a home here twice as big, and for half the price. This is what happens when first-time home buyers decide to just rent. In almost every scenario the rent paid will exceed the mortgage. This makes investing a no-brainer, and further shrinks an already dwindling market for first-time home buyers.
People are staying in their homes for 10 years longer than before. This may sound trivial, but it actually has a massive impact on the market. Whether it's people working later into their lives, the ever-growing presence of multi-generational housing, or folks realizing it's easier to age in place, this will naturally create a market biased towards sellers. After all, it is all about supply and demand. Most subdivisions have restrictions in place designating homes as single-family, but we have never seen this enforced. We are expected to see a shortage in new construction in 2023, which is the best way to combat this effect. So not only will you have people staying in their homes, but new home construction will be at a standstill due to builders slowing their construction. We could see record-level low inventory, which will result in record-breaking home prices.
False Information
According to Moody's Analytics Chief Economist Mark Zandi, "This may be the worst time in my living history for the home buyer — it just doesn't make sense." He said, "Mortgage rates are sky high, prices are sky high, and there's no inventory." Unfortunately, a similar thought is shared by many but remains wildly inaccurate. Mr. Zandi is 63 years old, which means he would've potentially bought, but certainly lived through the 1980s. That means he has seen rates over 16%, which were actual historic highs.
The Big Why
Why are people trying to dissuade you from buying a home? Why are people telling you that these rates are outrageous when historically they aren't even half of what people had to deal with? You'll have to take that winding road to conspiracy town by yourself, but here at Jo & Co. we are still here to help and encourage you to work towards securing your financial future.
A loan option I want to share with you:
We are seeing a lot of builders/lenders advertise the 2/1 buydown. Let's cover the pros and cons:
Pros – lower payment for the first 2 years which may help you mentally pull the trigger despite your concerns over "higher rates".
If the builder (or any seller for that matter) is willing to pay the 'buydown deposit' then it can be a good deal for the buyer.
If the buyer refinances within the first two years any amount remaining in the buydown fund will applied to the principal so the money isn't lost.
Cons – the borrower still has to qualify at the full interest rate.
In some instances, borrowers would be better off taking the concession from the builder and applying it to closing costs if they are really tight on funds to close up front.
Bottom line – the 2/1 can be a tool but just like any other mortgage program we really need to tailor it to the particular borrower and their needs. And what could a buydown like this look like? In one scenario I saw last week, the buydown cost $8,432.
Preferred Lender - We have a lender we can recommend to you, that can even contribute up to $3,000 towards your buy-down or closing costs. We also know builders willing to give $10k, $20k, and even $30k towards closing costs, buydowns, down payments, etc. (Long story short, please reach out to us!)
Jo & Co. Local Market Updates
At Jo & Co., we know knowledge is power. We make it a priority to know what is happening nationally and locally in the real estate market so that we have all the relevant data at our disposal for assisting you in making informed real estate decisions.
Our goal at Jo & Co., isn't just to be your realtor, but your resource.
So, every other week, we are creating market updates, and we upload them for you on our blog. Every month we are creating a market report for you called the Jo & Co. Report. This can be snail mailed or emailed to you each month.
I know that there are so many realtors to choose from in the Houston area, and we look forward to showing you why we think you should work with Jo & Co. If you need help navigating, please reach out to me by scheduling a call or sending me an email. Two other amazing resources are this blog and our YouTube Channel.
Below you will find a link to the different market updates we are publishing right now, with a bonus table of our Jo & Co. Reports.
By Neighborhood
By Zip Code
Jo & Co. Reports
Seller Series on YouTube
The seller series is officially live, and it can be accessed via this link, which will take you to the Seller Series Playlist. Enjoy. :)
Thank you.
We are so happy you found our little corner of the interwebs. We look forward to y'all reaching out to us. We love to answer questions and welcome them. Recently we created some local maps, and you can download those by clicking the image/link above. Below, you will find an index of some very helpful information to assist you in learning more about the Houston suburbs. If you are relocating to our neck of the woods, we hope you reach out to us, because we would love to help you by being your local realtor and friend. Thoughtfully written for you. Hugs, Jo.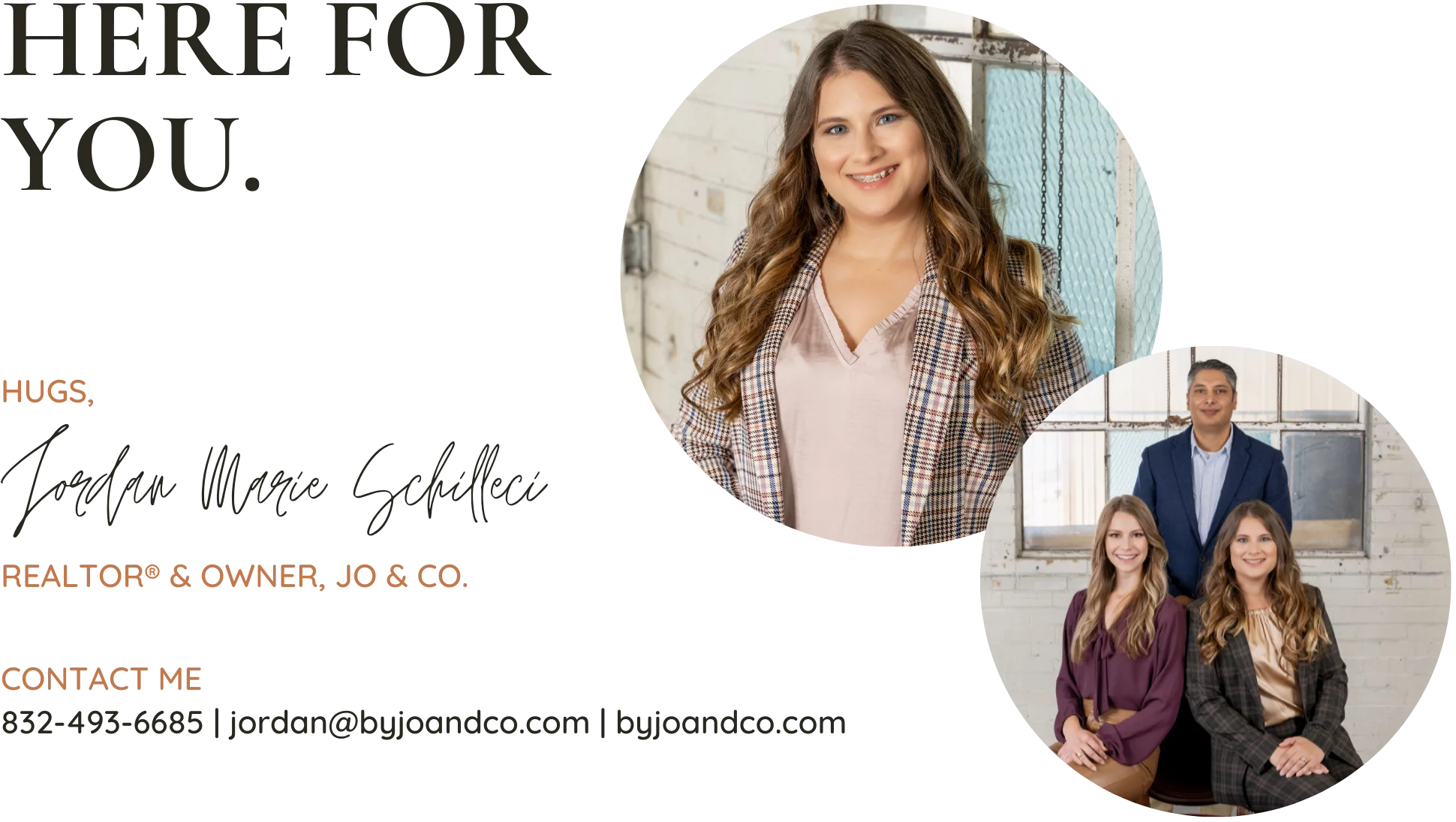 We are Waiting for You
If you are looking to relocate to the Houston Area, we would love to meet you, and hear your story. Below you will find all of my contact information, as well as some homes for sale in the area. We truly look forward to hearing from you! P.S. Don't forget to check out our YouTube Channel!

If you are overwhelmed..
Now if you are feeling overwhelmed on where you should plant your roots, I would love to talk to you. You can schedule a call with me by click this link: http://byjoandco.com/call or just send us an email: [email protected]. There are some amazing communities all over the Houston suburbs. In this post, https://search.byjoandco.com/blog/best-neighborhoods-in-houston/, I deep dive into all the different suburbs/neighborhoods that you might want to consider, and why. There are many resources here, so please reach out if you are curious what to look at next! Thank you for trusting us.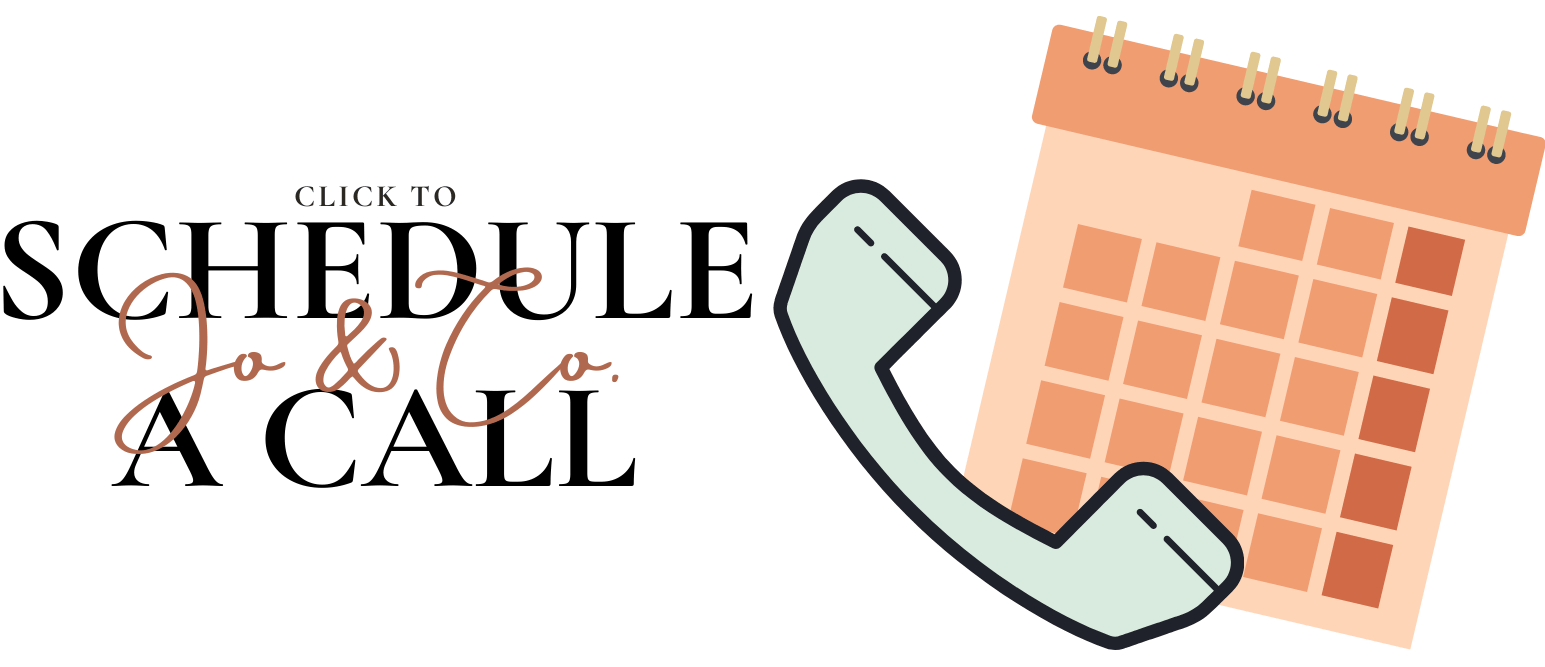 What next?!
• Navigate our blog: https://byjoandco.com/categories-to-help-you-navigate-the-blog/.
• Download our Moving to Texas ebook: http://byjoandco.com/movingtotexasebook.
• Download our Where to Live in Houston Texas ebook: http://byjoandco.com/wheretoliveebook.
• Browse our Ebooks and Relocation Guides: http://byjoandco.com/ebooks.
• Schedule a phone call or appointment with us: http://byjoandco.com/appointment.
• Email us! [email protected]
• Looking for a buyer's agent? Fill out our buyer questionnaire: http://byjoandco.com/q.
• Ready to find your dream home? Search, http://search.byjoandco.com.
• Subscribe to our YouTube Channel: http://byjoandco.com/youtube.