Homes for Sale in Katy, TX in Neighborhoods with Good Tax Rates
Posted by Jordan Marie Schilleci on Tuesday, August 18, 2020 at 2:10 PM
By Jordan Marie Schilleci / August 18, 2020
Comment
Hi friend. Today I am sharing with you neighborhoods in Katy TX, starting with the ones with good tax rates and growing the list from there. If you are new to the Houston Real Estate Market, you might not know that tax rates play a huge factor in affordability. If you are financing, the lower the tax rate, the more home you can afford. This list is going to focus on Katy TX, but please know we service all the suburbs, so if you have any questions, please reach out.
Katy TX Area Neighborhoods with Good Tax Rates | Newer Neighborhoods
LakeHouse | 2.37%
Westgreen | 2.49%
Pine Lakes | 2.54%
Lilac Bend | 2.64%
Firethorne | 2.71%
Willow Creek Farms | 2.92%
Silver Ranch | 2.95%
Homes for sale in these Low Tax Katy TX Neighborhoods | Link to Homes
Tax Rates of Neighborhoods in Katy, TX | Newer Neighborhoods
Tax Rates of Neighborhoods in Katy, TX | Established Neighborhoods
Grand Lakes | 2.31% +
Bear Creek Cillage | 2.32%
Green Trails Park | 2.35%
Falcon Landing | 2.38%
Pin Oak Village | 2.39%
Cinco Ranch | 2.43% +
Seven Meadows | 2.43%
Cimarron | 2.46%
Kelliwood | 2.50% +
Nottingham Country | 2.51% +
Governors Place | 2.52%
Fawnlake | 2.54%
Hunters Terrace | 2.54%
Falcon Point | 2.54%
Memorial Parkway | 2.56%
Oak Park Trails | 2.56%
Sundown | 2.57%
Williamsburg Colony | 2.59%
Barkers Ridge | 2.63%
Willow Park Greens | 2.69%
Williamsburg Hamlet | 2.72%
Heritage Grand | 2.76%
Creek Bend Estates | 2.76%
Raintree Village | 2.77%
Canyon Gate at Cinco Ranch | 2.81%
Parkway Oaks | 2.83%
Pine Mill Ranch | 2.90%
Vineyard Meadows | 2.91%
Silver Ranch | 2.95%
Homes for Sale in Katy, TX
Below you can see all the homes for sale in the city of Katy, TX. You can start a fresh search on http://search.byjoandco.com, or hit "refine results" to manipulate the search below.
Learn More About Katy, TX on YouTube!
To navigate the playlist, just hover over the top right corner and click, or click "Watch on YouTube".
At Jo & Co. we know that most poeple struggle with the home buying or selling experience.
We are a brokerage, real people, that do more for you, by being with you every step of the way, so that you plant your roots in the right soil.
One way that we go above and beyond is with the content we share on YouTube. Click the photo below to explore our channel.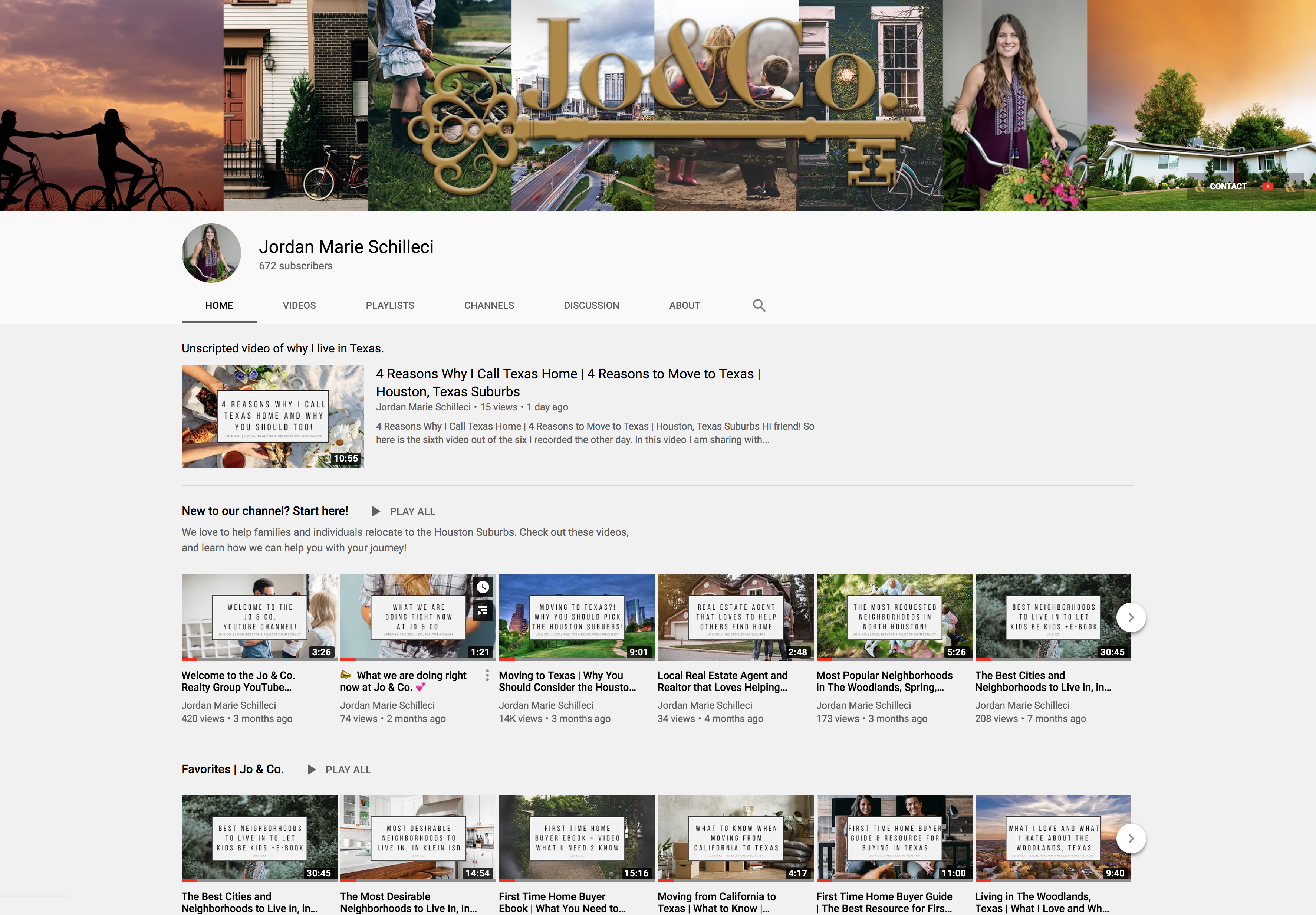 If you are new to buying or selling, if you are relocating to our area, or if you are just looking for a professional real estate experience, we look forward to meeting you and hearing your story.
- Jordan Marie Schilleci, REALTOR®, Jo & Co. Realty Group