Hampton Creek Real Estate Market Update | September 05, 2022
Posted by Jordan Marie Schilleci on Monday, September 5, 2022 at 8:58 PM
By Jordan Marie Schilleci / September 5, 2022
Comment
Hi neighbor,
Today I will be sharing with you our perspective on the local real estate market here in Spring, Texas, specifically a market update for the neighborhood of Hampton Creek. Whether you are looking to buy, sell, or just keep an eye on the market, we look forward to being your resource.
What is happening in the real estate market in Hampton Creek?
We currently have 1 home pending, with only 1 home sold in the last two weeks, averaging a sale price of $183 a square foot. One home sold over the asking price.
Compared to the two weeks prior, we haven't seen big changes in the market. The average sales price in the neighborhood is $349,900. Every home is different, with different features, so don't forget to ask us for your annual equity review if you are curious about your personal home. You can text AER to 79564 or email us here.
I know the interest rates rising has been one deterrent from some buyers purchasing right now, but that isn't your ideal buyer anyways! And the educated buyer still knows, they need to buy ASAP. The most desirable homes in the area are still selling the first weekend or first week they hit the market (a really good coming soon campaign, like we do at Jo & Co. allows you to sell faster, for more money).
Check out the graphic below for a larger overview of the real estate market for the last two weeks in Hampton Creek.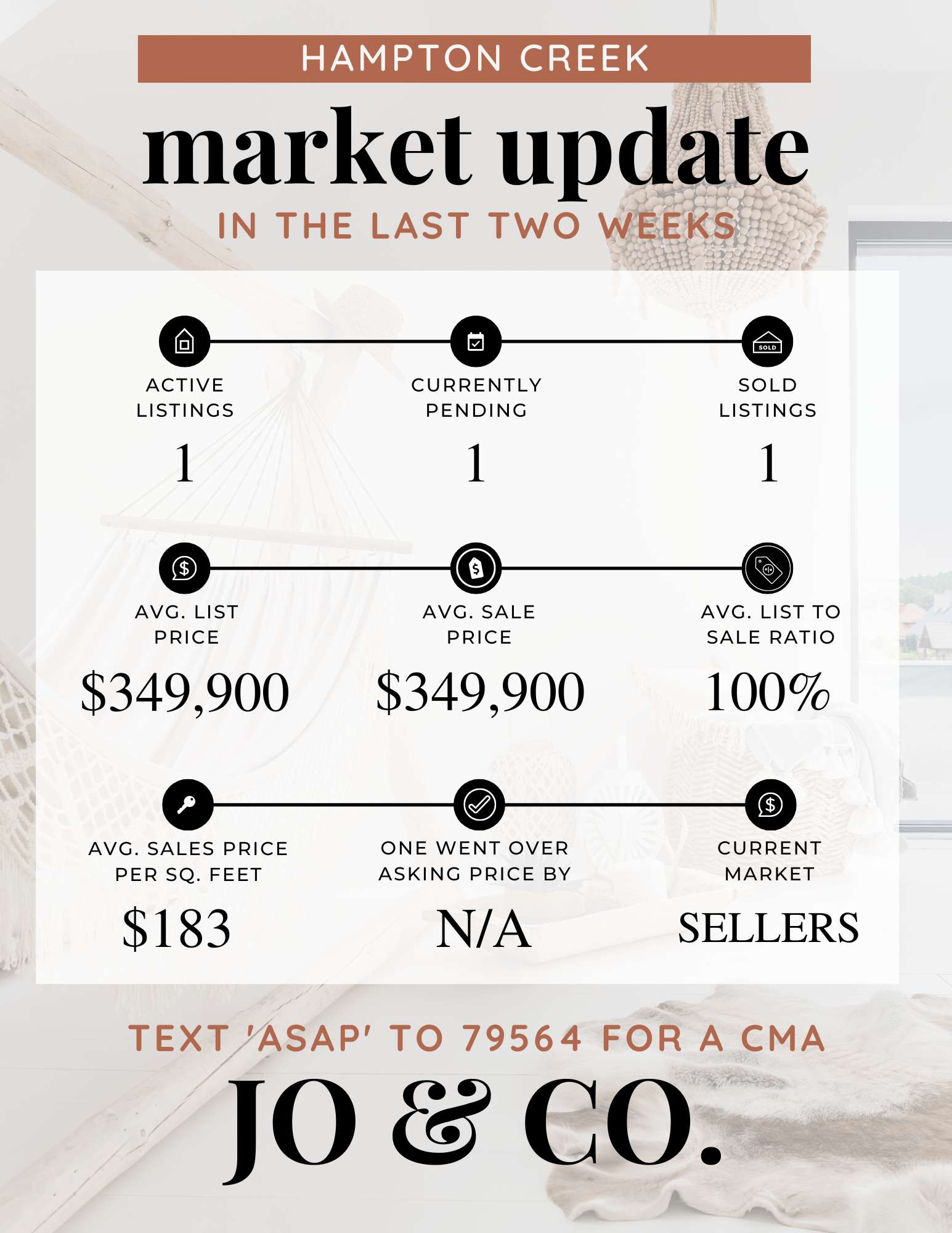 What is happening in the real estate market nationally?
Mortgage rates trended upward last week after unexpectedly strong jobs data, overseas inflation spike, and overall bond market weakness. Home price appreciation cooled in June on both the FHFA house price index and the Case-Shiller home price index. Job openings increased in July. Mortgage applications slipped. ADP employment increased in June but decreased in July and August. Initial jobless claims went down while continuing claims inched up. Construction spending decreased in July. The employment situation was overall stronger than expected.
| | |
| --- | --- |
| MORTGAGE RATES CURRENTLY TRENDING | THIS WEEK'S POTENTIAL VOLATILITY |
| | |
How Inflation Affects the Housing Market?
Gas prices are higher, we are spending more on food at the grocery store, and even some restaurants are adding a line item for inflation. Whether you are recognizing it in person or listening to Facebook chatter, inflation is affecting us all. But how is it affecting the real estate market?
What is Inflation?
Before we jump into the true answer, let's talk about what inflation is. Inflation is the increase in the prices of goods and services over time. The level of inflation is determined by the broader impact of higher prices and is measured through a few different indexes, with the most common being the Consumer Price Index (CPI). CPI looks at the average cost of living, including goods and services such as transportation, food, and medical care. It helps to identify periods of inflation and how it influences the affordability of the cost of living.
Ultimately, a rise in inflation means a decrease in purchasing power, as the dollar doesn't go as far as it did before. Deflation, on the other hand, comes with an increase in purchasing power as prices of goods and services drop. Therefore, home prices and the cost of rent fluctuate with the level of inflation, influencing the housing market.
Now a quick chat about supply and demand...
The law of supply and demand examines the relationship between buyers and sellers, specifically the price of a good and the willingness of a buyer to pay that price. Inflation has a direct impact on supply and demand. Historically, the demand for houses may be lower during higher periods of inflation because of higher mortgage rates, something that can cause houses to sit unsold for longer and their prices to sometimes drop. While that might not seem like great news for homeowners, it's worth noting that the overall value of houses steadily increases over time, meaning that houses still likely sell for more than what homeowners initially paid for them. And if time isn't of the essence and homeowners can wait longer to sell, then the market would eventually balance out.
On the other hand, this can be good news for homebuyers since there's less competition for homes as more people may wait for mortgage rates to drop again. Since inflation can be somewhat unpredictable, it's not always easy to determine when exactly rates will rise or fall. Ultimately, homeownership is still a highly valuable investment for a variety of reasons.
So how does this affect real estate?
As mentioned earlier, inflation causes the cost of all goods to rise, thereby impacting the general affordability of the cost of living. Gas prices rise, groceries cost more, the cost of materials are higher, and housing costs increase. It's not necessarily a one-to-one relationship, but inflation has a broad reach. Higher mortgage rates might deter people from their pursuit of homeownership, leading more people to look into rental options. However, rent is always fluctuating. The price you pay for a rental will continually be susceptible to the current economic market, so you'll rarely have a long-term fixed monthly payment. As of June 2022, the national median rent price was $1,876 a month, a 14.1 percent increase from the previous year.
On the other hand, when you buy a home with a fixed-mortgage rate, you'll have one steady payment that will not change even as inflation increases or decreases. The house would also appreciate over time, meaning the value of the property will increase. Any initial down payment ends up being worth more since that number was determined by the cost of the house and the mortgage rate when purchased. Homeownership is an investment, but it's well worth it. And in the long term, mortgage rates as of August 2022 are still lower than the historical average of 8 percent.
And the good news?
The good news for both buyers and sellers is that inflation doesn't last forever. It eventually must end, otherwise, money would continue to be devalued which would have a greater negative impact both nationally and on individuals. So for the benefit of everyone, you can trust that inflation will decrease over time.
So what do we do?
Wait patiently.
Notable News
3 reasons why the fed might take a less hawkish stance. Watch Now >>
One in five sellers are dropping their asking price. Read Now >>
HELOCs are having a resurgence in popularity. Listen Now >>
Market Recap
In June, Home price appreciation saw both an annual and monthly deceleration on the FHFA home price index. Month-over-month, home prices climbed 0.1% -- a much slower pace than May's 1.3% increase. Annual price appreciation slowed from 18.3% in May to 16.2% in June.
Home price appreciation slowed on the Case-Shiller home price index in June as well. May's home prices increased 1.2% month-over-month while June saw just a 0.4% monthly increase. Year-over-year, prices appreciated 20.5% in May and 18.6% in June.
The Job Openings and Labor Turnover Survey (JOLTS) showed an increase of 199,000 job openings in July, bringing the total number of job openings in July to 11.24 million.
Mortgage application submissions fell a composite 3.7% during the week ending 8/26. The Refinance Index decreased 8% while the Purchase Index decreased 2%.
ADP nonfarm employment in August was much lower than the 300,000 jobs expected, coming in at a level of 132,000.
Continuing jobless claims increased slightly to a level of 1.43 million during the week ending 8/20. Initial jobless claims dropped to 232,000 during the week ending 8/27.
Average hourly earnings were 0.3% higher in august than they were in July. Average weekly hours were slightly lower than their July level at 34.5. Government payrolls climbed by 7,000 – lower than the 49,000 the month before. Manufacturing payrolls increased 22,000 – higher than expected. Nonfarm payrolls exceeded expectations as well, climbing by 315,000. The participation rate increased to 62.4%. Private nonfarm payrolls were higher than expected at 308,000. The unemployment rate was slightly higher than expected at 3.7%.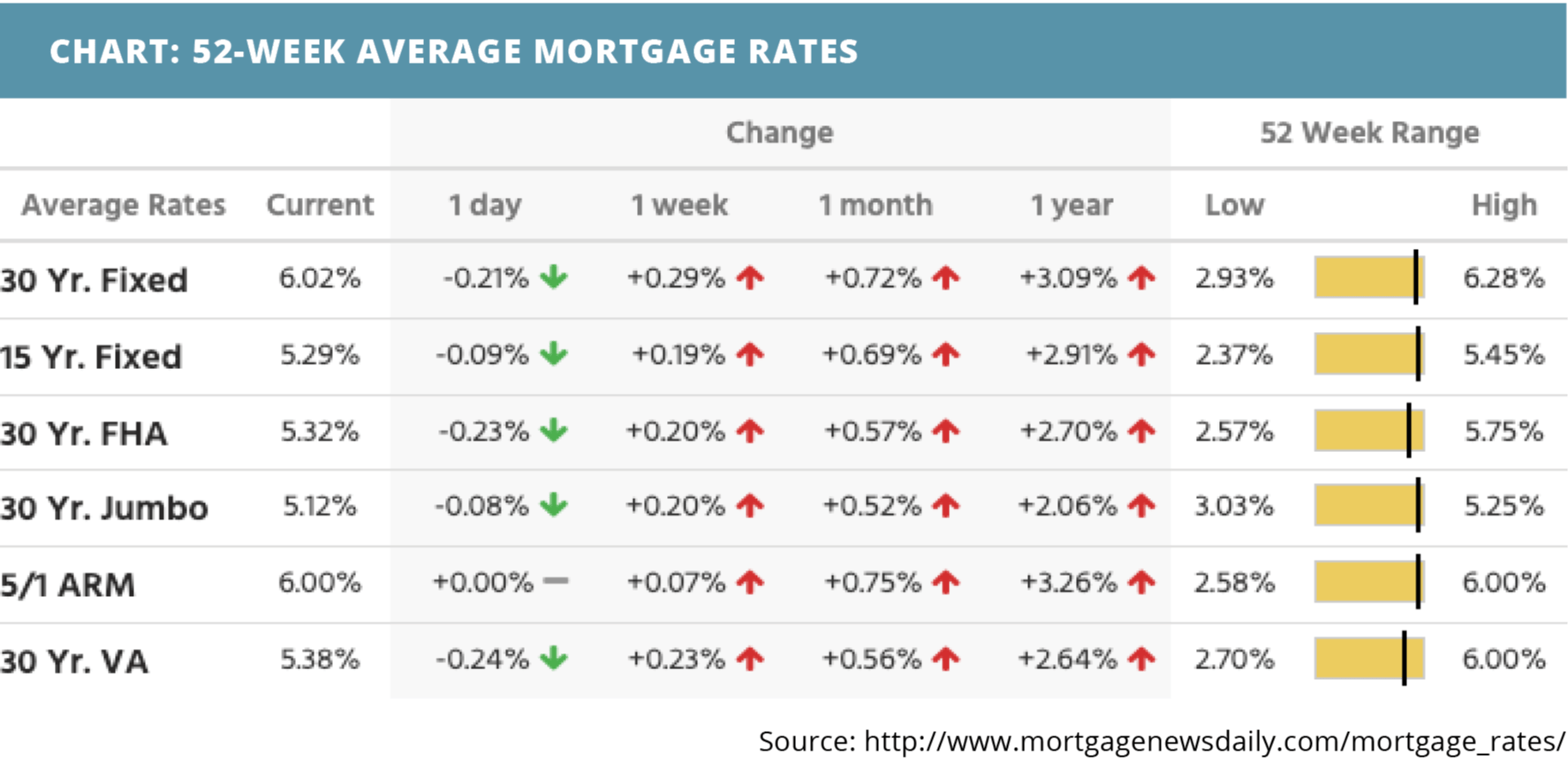 Review of Last Week
FED FEARS FRUSTRATE GOLDILOCKS JOBS... A not-too-hot, not-too-cold August jobs report wasn't enough to quell investor fears of another big Fed rate hike this month, so stocks dropped for the third week in a row.
Traders at first felt the Fed would ease up, given the mediocre 315,000 new jobs and unemployment climbing to 3.7%. But labor force participation rose to 62.4% and hourly earnings gained 0.3%, both signs of economic strength.
There were worries Russian giant Gazprom would prolong the halt of its natural gas flow to Europe, while over here, orders for manufactured goods fell in July. But ISM Manufacturing still showed expansion in August.
The week ended with the Dow down 3.0%, to 31,319; the S&P 500 down 3.3%, to 3.924; and the Nasdaq down 4.2%, to 11,631.
Bond prices overall also headed south, pushing yields and interest rates up, the 30-year UMBS 5.0% down 0.78, to $100.32. The national average 30-year fixed mortgage rate continued to move up in Freddie Mac's Primary Mortgage Market Survey. Remember, mortgage rates can be extremely volatile, so check with your mortgage professional for up-to-the-minute information.
DID YOU KNOW… Realtor.com reports seller sentiment is declining, as the number of newly listed homes keeps falling, down 12% from a year ago, even though home prices are still near record highs and home equity has shot up.
Market Forecast
SERVICES GROWTH DOWN, JOBLESS CLAIMS UP... The big services sector of the economy is expected to keep growing in July, but at a lower rate by the ISM Non-Manufacturing Index. Weekly Initial Jobless Claims should head up a bit, also indicating a slowing economy, something the Fed wants, to stem inflation.
All U.S. financial markets were closed yesterday, September 5, in observance of Labor Day.
Summary
In July, total residential construction spending fell 1.5% below June's revised estimate, to a $920.4 million annual rate. However, that number is still 14.1% above where residential spending was in July a year ago.
June saw the smallest monthly home price gains in two years. Both the Case-Shiller index, up 0.3%, and the FHFA index for homes financed with conforming mortgages, up just 0.1%, came in with sharp decelerations.
And July saw price gains reverse in Black Knight's home price index. They reported the median U.S. home price slid 0.77%--the first monthly drop in nearly three years and the largest one-month decline in more than 11 years.
Can we sell yours?
So if you are in need of a listing agent, we would love the opportunity to see your home and meet you of course. My husband, Edward, and I, look forward to being the brokerage and team for you! You can reach out to us via email: [email protected] & [email protected] or telephone: 832-493-6685.
Read more:
If you are curious 'How to get more money for your home when listing it for sale', check out this blog post.
I hope you have found this blog post super helpful. If there is anything else we can do for you, including helping you sell (or buy) a home, I would be honored to assist. I hope you have a great day/evening. Cheers, E + J.
We are so happy you found our little corner of the interwebs. We look forward to y'all reaching out to us. We love to answer questions and welcome them. Recently we created some local maps, and you can download those by clicking the image/link above. Below, you will find an index of some very helpful information to assist you in learning more about the Houston suburbs. If you are relocating to our neck of the woods, we hope you reach out to us, because we would love to help you by being your local realtor and friend. Thoughtfully written for you. Hugs, Jo.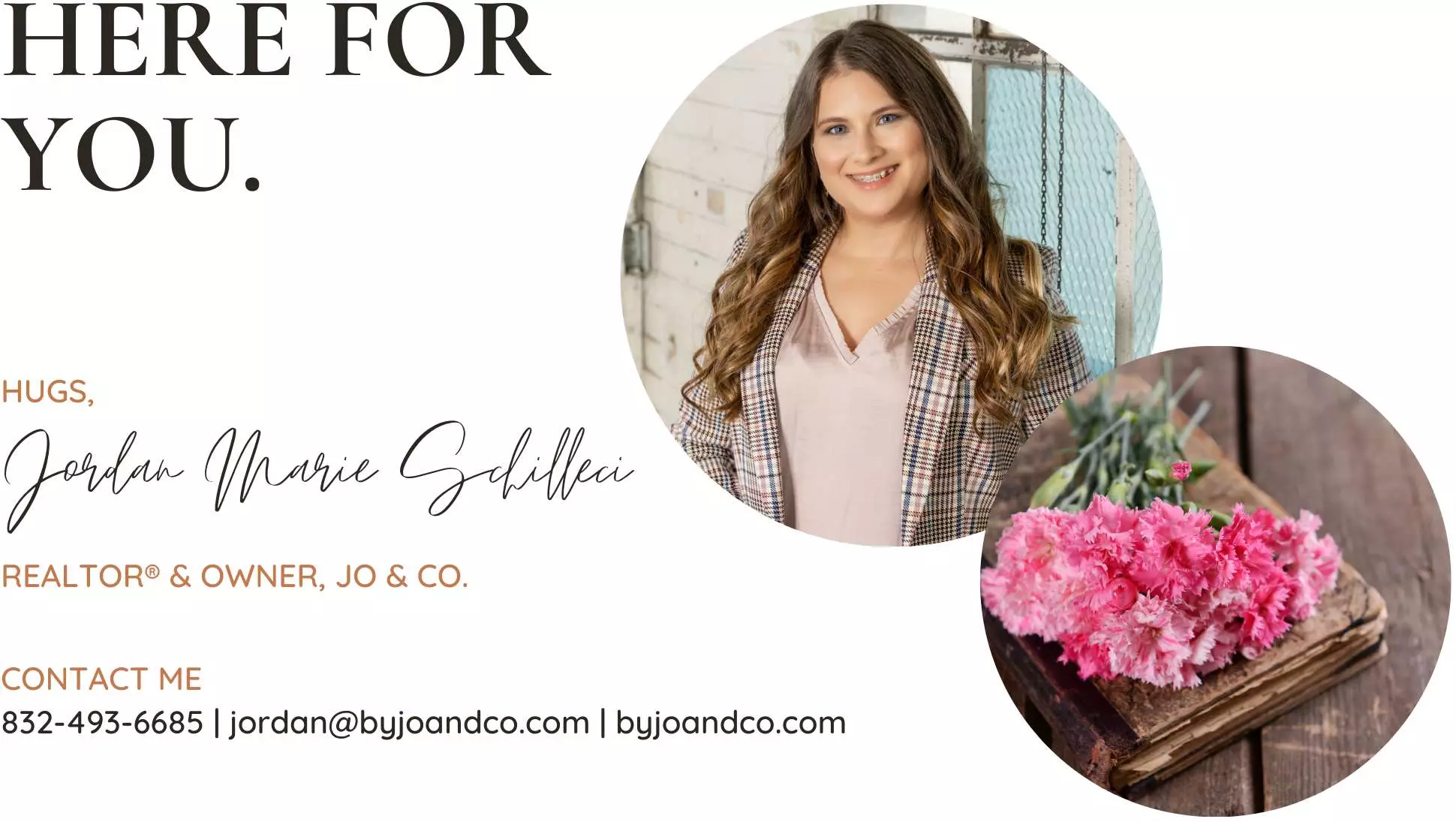 We are Waiting for You
If you are looking to relocate to the Houston Area, we would love to meet you, and hear your story. Below you will find all of my contact information, as well as some homes for sale in the area. We truly look forward to hearing from you! P.S. Don't forget to check out our YouTube Channel!

If you are overwhelmed..
Now if you are feeling overwhelmed on where you should plant your roots, I would love to talk to you. You can schedule a call with me by click this link: http://byjoandco.com/call or just send us an email: [email protected]. There are some amazing communities all over the Houston suburbs. In this post, https://search.byjoandco.com/blog/best-neighborhoods-in-houston/, I deep dive into all the different suburbs/neighborhoods that you might want to consider, and why. There are many resources here, so please reach out if you are curious what to look at next! Thank you for trusting us.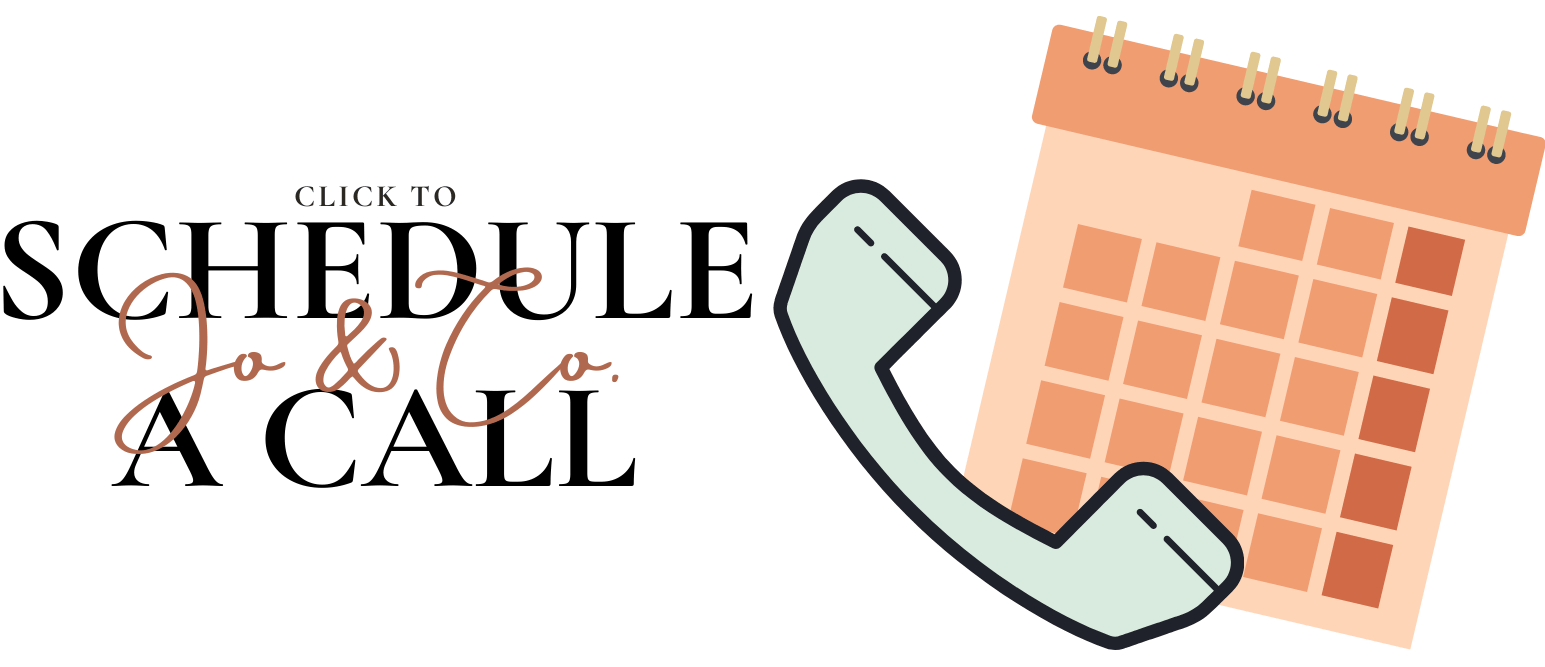 What next?!
• Navigate our Blog: https://byjoandco.com/categories-to-help-you-navigate-the-blog/
• Download our Moving to Texas ebook! http://byjoandco.com/movingtotexasebook.
• Download our Where to Live in Houston Texas ebook! http://byjoandco.com/wheretoliveebook.
• Browse our Ebooks and Relocation Guides: http://byjoandco.com/ebooks
• Schedule a phone call or appointment with us! http://byjoandco.com/appointment.
• Email us! [email protected].
• Looking for a buyer's agent? Fill out our buyer questionnaire! http://byjoandco.com/q.
• Ready to find your dream home? Search, http://search.byjoandco.com.
• Subscribe to our YouTube Channel: http://byjoandco.com/youtube.