DIXIE DUDE RANCH, BANDERA, TEXAS | BEST FAMILY VACATION IN TEXAS | VLOG
Posted by Jordan Marie Schilleci on Tuesday, November 3, 2020 at 12:45 PM
By Jordan Marie Schilleci / November 3, 2020
Comment
Hi friend! In this video, I will be sharing footage with y'all from our last family vacation. We had a total blast, and I really recommend this dude ranch if coming to Texas for a family vacation!
If you need help navigating the local real estate market, or you are feeling a little overwhelmed, feel free to reach out to us via e-mail or by scheduling a call. We also have a very resourceful YouTube page, and many other blog posts to help guide you. Welcome to the Jo & Co. experience!

Hi y'all. My name is Jordan Schilleci. I am a mom, blogger, real estate agent, wife, and entrepreneur. We live outside of Houston Texas and I specialize in relocation. This is a little out of my norm. Today I will not be bragging about my town and the areas I like to explore. Today I am sharing the video footage I took of my family and I on a near accidental visit to the best dude ranch ever. Lol. We originally had reservations at a different dude ranch, but upon arrival we were really upset. Long story short, we went down the road and found Dixie Dude Ranch. We loved our visit and in this video, from beginning to end, I share with you all the reasons why my whole family (4-14) loved the stay. We cannot wait to go back and plan to 1-2 times a year. The food and people were amazing. This dude ranch was all inclusive. We hope you enjoy the video. Xojo.
Jordan Schilleci, REALTOR
At Jo & Co. we know that most poeple struggle with the home buying or selling experience.
We are a brokerage, real people, that do more for you, by being with you every step of the way, so that you plant your roots in the right soil.
One way that we go above and beyond is with the content we share on YouTube. Click the photo below to explore our channel.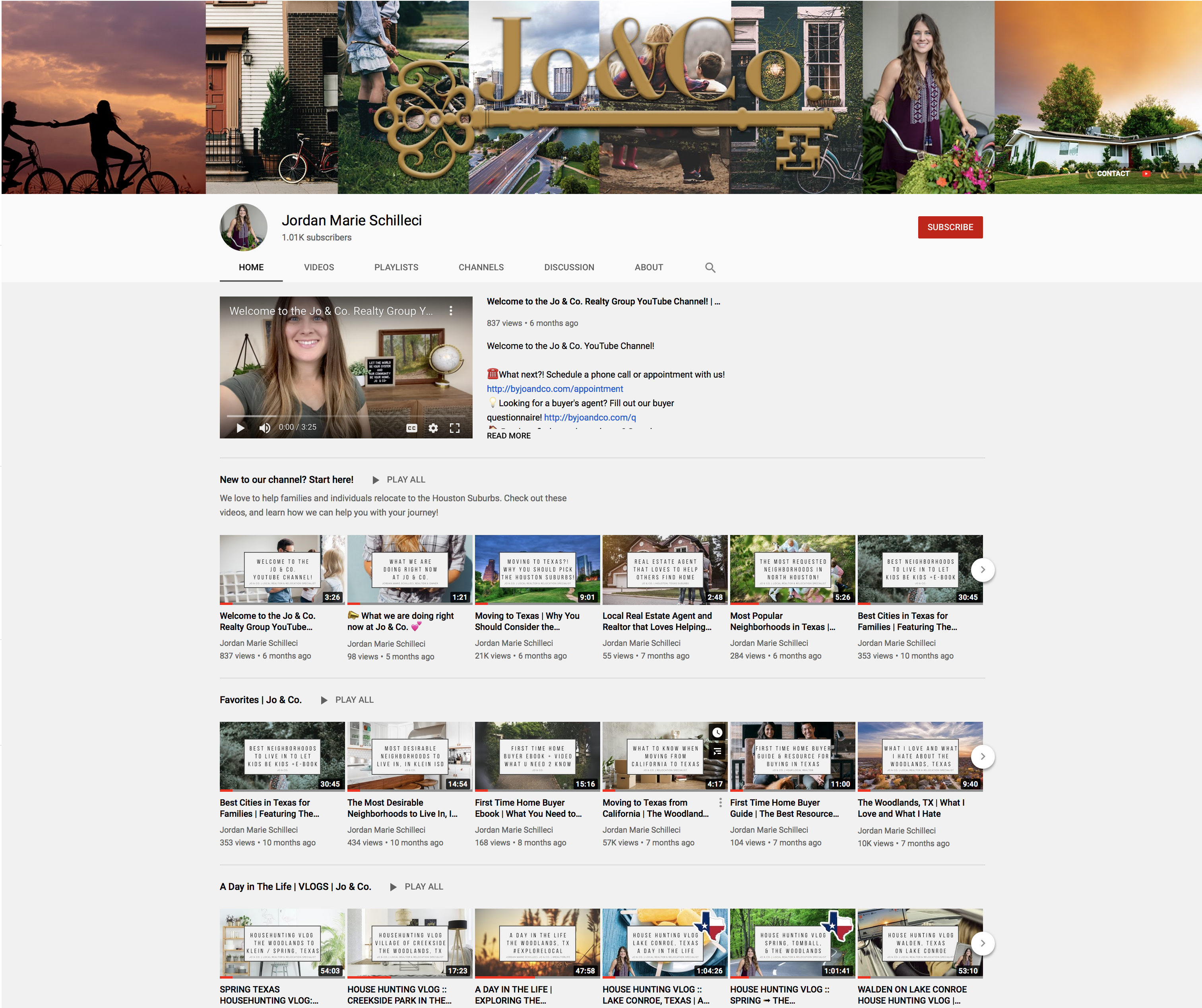 If you are new to buying or selling, if you are relocating to our area, or if you are just looking for a professional real estate experience, we look forward to meeting you and hearing your story.
- Jordan Marie Schilleci, REALTOR®, Jo & Co. Realty Group
What next?!
Below you can see all the homes for sale in The Conroe Area. You can start a fresh search on http://search.byjoandco.com, or hit "refine results" to manipulate the search below.
Homes for Sale in The Conroe Area.