Best Places to Live Near Houston, Texas | Featuring Katy, Spring, The Woodlands, Conroe and More!
Posted by Jordan Marie Schilleci on Thursday, October 8, 2020 at 9:07 AM
By Jordan Marie Schilleci / October 8, 2020
Comment
Hi friend! Are you trying to figure out where to live in the Houston, Texas Suburbs? Well in this post I am sharing a video where I talk about the best places to live in the Houston area.
If you need help navigating the local real estate market, or you are feeling a little overwhelmed, feel free to reach out to us via e-mail or by scheduling a call. We also have a very resourceful YouTube page, and many other blog posts to help guide you. Welcome to the Jo & Co. experience!
Hi friend! I feel like I am back to making videos!
I was a little giddy and nervous so please don't mind that. Life has been so busy for us lately, but in a totally good way.. exactly the way I want. But this means I have struggled to fit videos in.
Yesterday I "took the day off", with hopes to create videos and sleep in. We are getting the tile floor in our foyer replaced. (Our home was built in 1985, 5500 square feet, and completely original when we purchased it a year ago. We have mostly just done floors, wallpaper removal, some new light fixtures here and there, and paint. The yard is a half acre, and we haven't even been able to make a dent in the work it needs. Anywho..) So the construction crew woke me up at 8:05 am, and I think I was on my phone or working until 8:30 pm. I then ate some Brussels sprouts and fit in an hour ish of videos. This was the first one I recorded.
Our son passed away 2 months ago. It was very tragic. I have thrown myself into work, but have found recording videos not as easy as it use to be. So any who, just wanted to explain my nervousness. Hugs.
At Jo & Co. we know that most poeple struggle with the home buying or selling experience.
We are a brokerage, real people, that do more for you, by being with you every step of the way, so that you plant your roots in the right soil.
One way that we go above and beyond is with the content we share on YouTube. Click the photo below to explore our channel.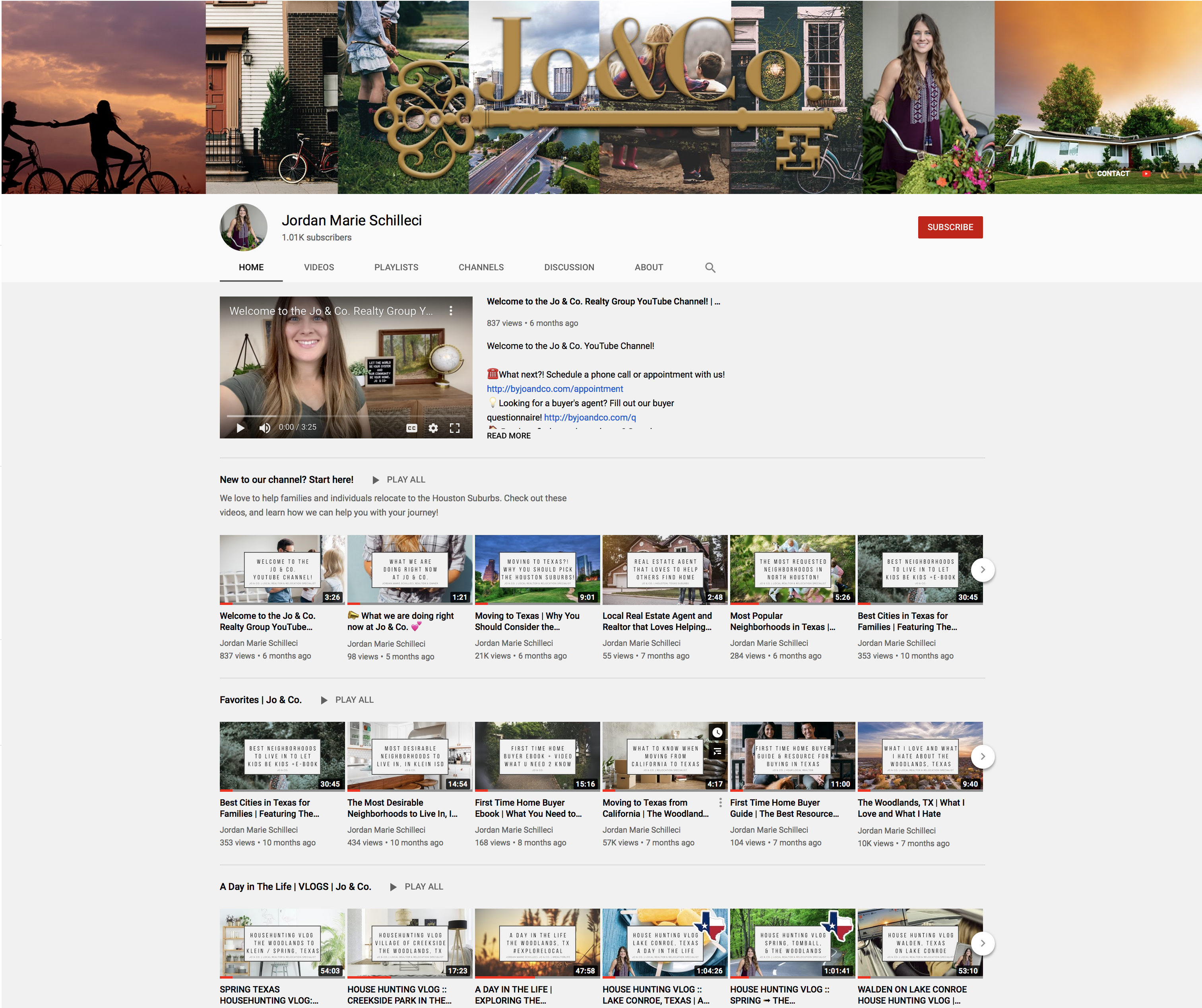 If you are new to buying or selling, if you are relocating to our area, or if you are just looking for a professional real estate experience, we look forward to meeting you and hearing your story.
- Jordan Marie Schilleci, REALTOR®, Jo & Co. Realty Group
What next?!
Below you can see all the homes for sale in The Katy Area. You can start a fresh search on http://search.byjoandco.com, or hit "refine results" to manipulate the search below.
Homes for Sale in The Katy Area.