Best Neighborhoods in/around The Woodlands, Spring, and Conroe between $300k - $500k
Posted by Jordan Marie Schilleci on Saturday, August 29, 2020 at 2:32 PM
By Jordan Marie Schilleci / August 29, 2020
Comment
Hi friend,
I was speaking with a new client yesterday, and he is semi-retired, will need access to the airport, he and his wife love dining out, they love trees and wish to have hills, and they just so happen to be relocating here from out of state. This gentleman was curious what neighborhoods would fit his needs best if his budget was between $300k and $500k around Spring TX and The Woodlands TX, so a bit ago, I did typed him up an email, and I wanted to share that email here, because it was full of some amazing recommendations and insight.
...
Augusta Pines & Gleannloch Farms..
Both of these neighborhoods have golf courses / country club within them. They are both within Klein ISD and a bit low key, but in a good way. They are also sister courses, so if you belong to one of them, you can golf at the other.
https://search.byjoandco.com/property-search/results/?searchtype=2&searchid=460086
I think you would find Augusta Pines a bit prettier, and closer to The Woodlands and the entertainment you find within The Woodlands.
Creekside Park in The Woodlands..
I had also mentioned Creekside Park to you. It is the newest village to be developed in The Woodlands, and insanely popular. If I were to move, and wanted to be centrally located, I would pick this neighborhood. There are walking trails, parks, ponds/lakes, shopping, grocery, restaurants, and more, all within walking distance. So obviously, this neighborhood dominates in sales in the area because of its walkability. All of The Woodlands is very walker and biker friendly. I recommend driving around Creekside, and The Woodlands as a whole. Just keep in mind, the newer homes will be found in the village of Sterling Ridge, and Creekside Park.
The Woodlands Hills & Stillwater..
When you mentioned hills, The Woodlands Hills, and Stillwater came to mind. Stillwater is closer to town, and The Woodlands Hills is a bit north. You will find a lot of new construction in these two areas. Both neighborhoods have great accessibility to the highway I-45.
Grand Central Park..
Another neighborhood that is close to I-45, is Grand Central Park. If you are interested in new construction, this is another neighborhood to consider. It is between Stillwater, and The Woodlands Hills, so a little north of The Woodlands. It was actually built on the old boy scout camp, and has a huge lake. They are building a lot of really nice commercial around this neighborhood with almost 50% of it complete.
Bentwater
We didn't talk about this neighborhood, but it is one of my favorites, and anyone that is semi-retired, would love it. It is another golf course community, but a big step up from the other two I have mentioned thus far. The country club, and amenities are out of this world, and it is all on Lake Conroe. If lake life interests you even a little bit, I would certainly check it out!
You would be roughly 30 minutes from The Woodlands if you lived in Bentwater..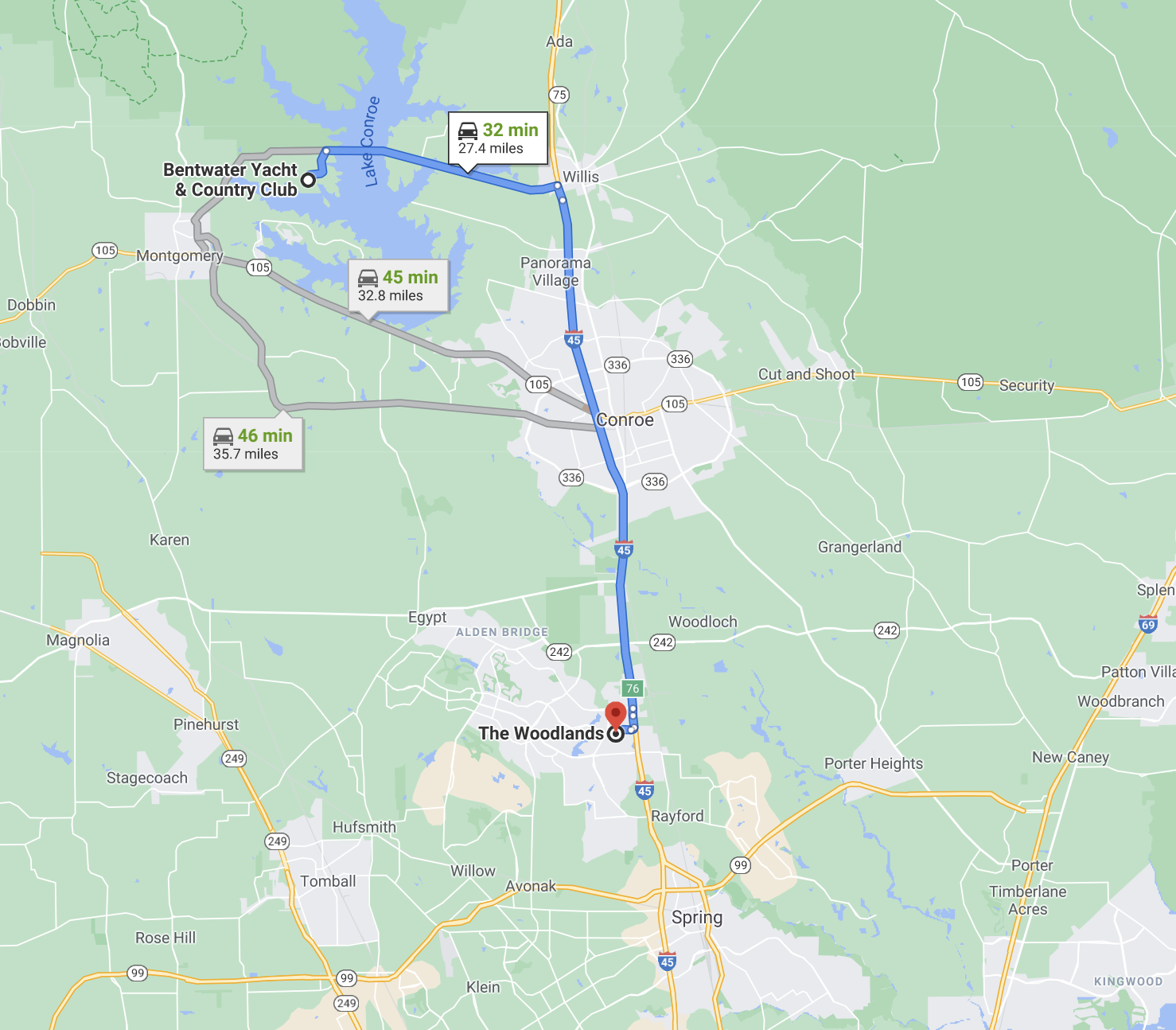 Overall, my top three neighborhoods for y'all are: Creekside Park in The Woodlands (trees and walkability), Stillwater (hills and brand new homes), and Augusta Pines (trees, golf, and value per square foot). And I picked these three because of your preference for fine dining, hills, and the need to not be too far from the airport, assuming you travel for your consulting work.
...
Below you will find some active listings for homes in The Woodlands, including Creekside Park, as well as, Stillwater, Augusta Pines, Auburn Lakes, and Gleannloch Farms. Above, you can find lines to each neighborhood I recommended. Feel free to alter the search parameters. Also below you can find a link to my YouTube Channel. :)
Learn more on our YouTube channel!
At Jo & Co. we know that most poeple struggle with the home buying or selling experience.
We are a brokerage, real people, that do more for you, by being with you every step of the way, so that you plant your roots in the right soil.
One way that we go above and beyond is with the content we share on YouTube. Click the photo below to explore our channel.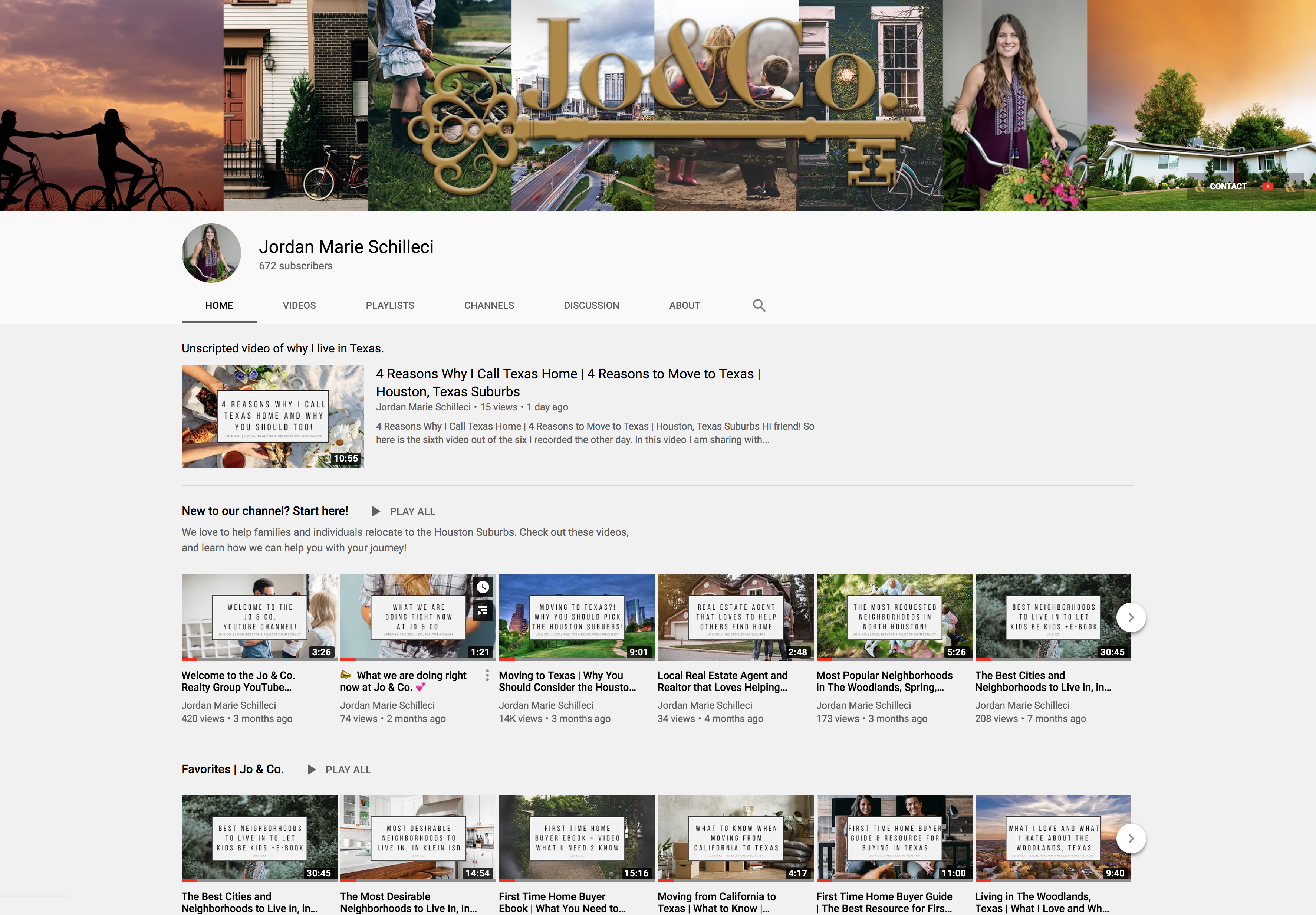 If you are new to buying or selling, if you are relocating to our area, or if you are just looking for a professional real estate experience, we look forward to meeting you and hearing your story.
- Jordan Marie Schilleci, REALTOR®, Jo & Co. Realty Group