77070 Real Estate Market Update | October 09, 2023
Posted by Jordan Marie Schilleci on Monday, October 9, 2023 at 8:58:30 PM
By Jordan Marie Schilleci / October 9, 2023
Comment
Hi neighbor,
Today I will be sharing with you our perspective on the local real estate market here in Houston, Texas, specifically a market update for the neighborhood of 77070. Whether you are looking to buy, sell, or just keep an eye on the market, we look forward to being your resource.
What is happening in the real estate market in 77070?
We currently have 4 homes pending, with 6 homes sold in the last two weeks, averaging a sale price of $155 a square foot. Six homes sold over the asking price, with one home selling 5% above the listing price.
Compared to the two weeks prior: Homes sold are up from 2 homes sold to 6 homes sold and the average sales price is also up: $496,783 ($425,000 previously). Every home is different, with different features, so don't forget to ask us for your annual equity review if you are curious about your personal home. You can request your free home evaluation here or email us here.
If we look at how fast the move-in ready homes are going, the demand in this area has not surpassed the supply, making it still a great time to sell. Buyer agents around Houston are seeing a slow in the real estate market, but it isn't affecting every neighborhood. I know the interest rates rising has been one deterrent from some buyers purchasing right now, but that isn't your ideal buyer anyways!
The most desirable homes in the area are still selling the first weekend or first week they hit the market (a really good coming soon campaign, like we do at Jo & Co. allows you to sell faster, for more money).
Check out the graphic below for a larger overview of the real estate market for the last two weeks in 77070.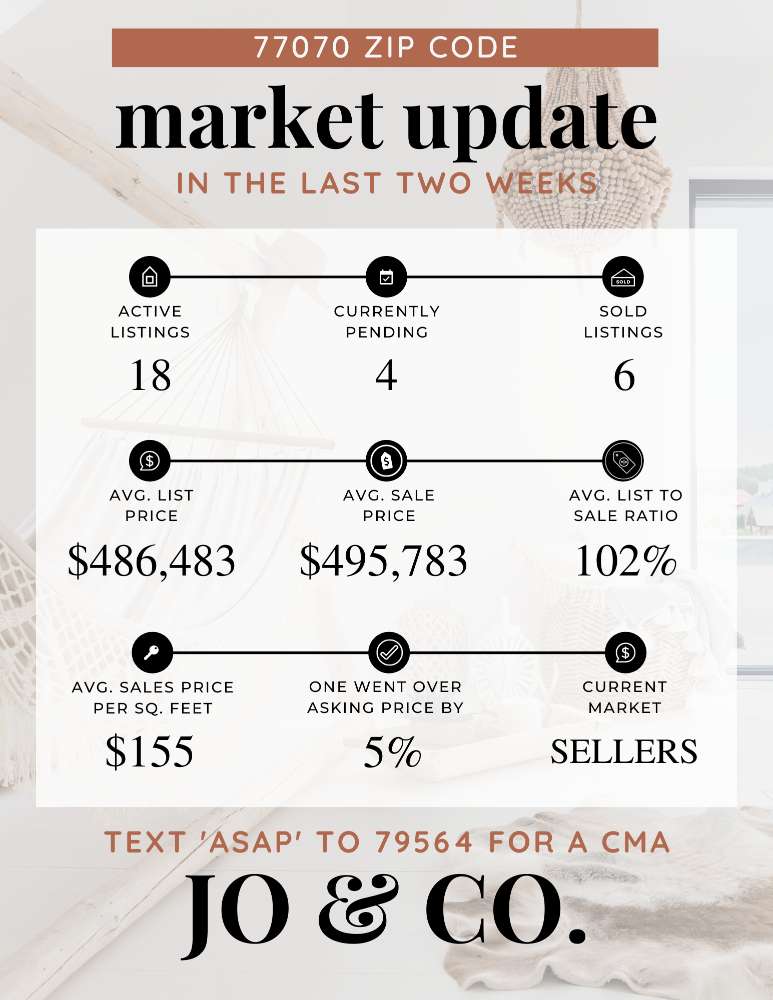 My Two Cents: What I learned this week.
I love bringing y'all things I learned this week, so here is a recap...
1. Global Love for Texas: Even with rising rates, our beloved Texas seems to have caught the eye of international homebuyers. From April 2022 to March 2023, they've poured in a cool $4.3 billion! It's worth noting that Texas now proudly stands as the third most popular state for global buyers, trailing only Florida and California. The majority of these buyers hail from Mexico, and impressively, half of them were able to make all-cash transactions. That's some serious commitment to the Lone Star state.
2. Affordability in Houston: Now, while our state is receiving international attention, local folks in Houston have been facing some challenges. A significant portion, nearly 60%, found it tough to buy a house here pre-pandemic. And although home prices have seen a slight reduction recently, other costs, like higher mortgage rates, insurance premiums, and taxes, have chipped away at that affordability. It's a delicate balance, and a pinch on the wallet for many. Now there are still lots of ways and areas where we can find more affordable homes, with new construction being the best option, or a home that isn't perfect in an established neighborhood, so please don't be discouraged.
3. Mortgage Blues: On a broader scale, mortgage demand has tanked to its lowest since 1995, mainly due to those pesky rising interest rates. When Lawrence Yun from NAR points out that both inventory and mortgage rates have been unfavorable to buyers, it's hard not to nod in agreement.
4. Natural Disasters and Insurance: Nature's fury has been at the forefront lately, and it's affecting our insurance policies. With climate change ushering in extreme weather patterns, big insurers are pulling back from covering certain disasters. From Hurricane Idalia to fires in Maui, nature's tantrums are making companies rethink their offerings. It's becoming a puzzle for homeowners — to insure or not to insure?
5. Houston's Housing Post-Pandemic: We all remember the pandemic-induced buying frenzy, thanks to those dreamy 5% mortgage rates. However, times are changing. Interest rates are climbing, and house sales in Houston are stabilizing, moving towards what we experienced pre-pandemic in 2019. According to Cathy Trevino, the HAR chair, we might be settling into a "new normal", and those tantalizing pandemic rates might remain a distant dream.
6. The Money Ceiling Conundrum: Here's something that's been taking up a lot of my bandwidth lately - the potential dramatic change in school property taxes for Texas homeowners, specifically our senior citizens and disabled homeowners. This shift promises that many will see their tax 'drop to $0 or very close to $0'! Now, doesn't that sound enticing?
But here's the deal: understanding this isn't straightforward. It's like diving into a math riddle that never seems to solve itself. I've spent hours poring over this, consulting with experts, running the numbers, and yet the math just kept zigzagging.
So, for the uninitiated, if you have a homestead and cross that magical age of 65 or become disabled, you encounter what's called "the ceiling" for school property taxes. It's not the one you stare at when daydreaming, but a money-saving barrier that ensures your school tax doesn't skyrocket even if your home's value does. Now, with the new property tax relief, the big question is how this will impact those with "the ceiling"?
Senator Paul Bettencourt's office (he's the mastermind behind the tax relief legislation) jumped in with a solution. They provided a formula that, in simple terms, can significantly reduce the tax bill for those homeowners. With this new formula, it's suggested that a large chunk of Texas homeowners might just find their school tax bill near or even at zero!
Yet, after all the math acrobatics, I remain cautiously optimistic. Seeing will be believing, so I'm eagerly waiting to get a glimpse of those tax bills in the coming months.
The potential savings sound promising. Bettencourt's estimates hint at an average two-year savings ranging from $2,578.61 to $2,919.33 depending on your homeowner category. Sounds delightful, right?
But there's a caveat. It's not set in stone. While lawmakers and the governor are on board, this proposition still awaits the green signal from Texas voters this November. So, the game's not over; it's halftime.
If approved, this could revolutionize the way homeowners contribute to school districts. And while there are concerns about depriving schools of funds, it's heartening to see that the state, with its budget surplus, plans to compensate for the next two years.
The landscape of our housing market, from international interest to local tax intricacies, continues to evolve. These are exciting yet challenging times. Stay informed, ask questions, and let's hope for clarity in the coming months. Until next week, happy home pondering!
What is happening in the real estate market nationally?
Mortgage rates climbed higher last week thanks to strong jobs data. Construction spending and job openings increased in August. Mortgage application submissions decreased. The ADP nonfarm employment change slowed in September. Jobless claims were relatively unchanged. The employment situation was higher in September.
| | |
| --- | --- |
| MORTGAGE RATES CURRENTLY TRENDING | THIS WEEK'S POTENTIAL VOLATILITY |
| | |
Notable News
Will the bond market force the Fed to pivot? Listen Now >>
Here's the key question the housing market is facing right now. Read Now >>
Mortgage rates stabilizing will help both supply and demand in the housing market Listen Now >>
Market Recap
Construction spending increased 0.5% month-over-month in August, in line with expectations.
Job openings on the Job Openings and Labor Turnover Survey (JOLTS) were at 9,610,000 in August – much higher than the anticipated level of 8,800,000.
Mortgage application submissions fell 6% during the week ending 9/29. While the Refinance Index decreased 7%, the seasonally adjusted Purchase Index fell 6%.
The ADP nonfarm employment change signaled a moderate slowdown in the jobs growth sector in September. Though the expected increase for private payrolls was 153,000, the actual increase was 89,000.
Continuing jobless claims were relatively unchanged at 1,664,000 during the week ending 9/22. Initial jobless claims were slightly higher during the week ending 9/29, rising just 2,000 to a reach a level of 207,000.
The employment situation was unexpectedly higher in September, causing mortgage-backed securities (MBS) to drop sharply after the initial announcement. Lower MBS = higher rates. Though average hourly earnings were a bit lower than expectations at 0.2% month-over-month, nonfarm payrolls doubled expectations at 336,000. Nonfarm payrolls are the big hitter in the employment situation. Government payrolls increased by 73,000, manufacturing payrolls increased by 17,000 and private payrolls increased by 263,000 – all higher than expectations.

The average workweek remained unchanged, as did the participation rate at 62.8%.The unemployment rate climbed higher at 3.8%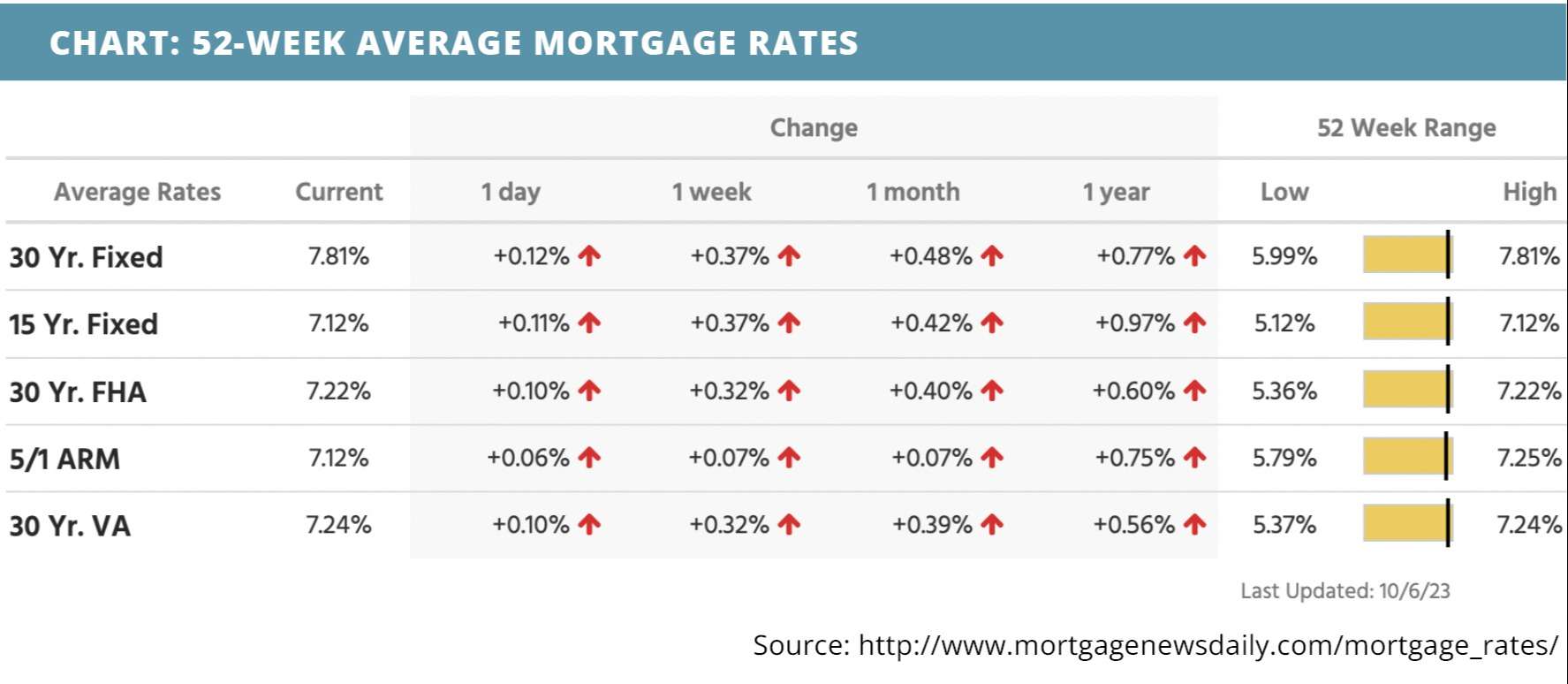 Review of Last Week
GOOD JOBS... Friday, a blockbuster September jobs report showed a surprising 336,000 new Nonfarm Payrolls, plus 119,000 more jobs from revisions to prior reports. Stocks rallied and only the Dow closed down for the week.
That kind of labor market strength bodes well for the economy. The best news in the report was that wage growth cooled, increasing a modest 0.2%, relieving inflationary pressures, and discouraging the Fed from hiking rates.
In addition, the manufacturing sector contracted at a slower pace in September, while the far larger services sector stayed in growth mode, and the trade balance shrunk to the smallest level since 2020.
The week ended with the Dow down 0.3%, to 33,408; the S&P 500 UP 0.5%, to 4,309; and the Nasdaq UP 1.6%, to 13,431.
Bond prices fell 1.3% overall, the 30-Year UMBS 6.0% sinking 0.93, to $97.31. The national average 30-year fixed mortgage rate moved up in Freddie Mac's Primary Mortgage Market Survey. Remember, mortgage rates can be extremely volatile, so check with your mortgage professional for up-to-the-minute information.
DID YOU KNOW… A new survey reports more than one in four home sales are to an investor, and 72% said market conditions are the same or better than a year ago, 75% believe conditions will stay stable or improve over the next six months.
Market Forecast
INFLATION, CONSUMER SENTIMENT, FED MINUTES… Inflation is expected to moderate, as shown by both September's Consumer Price Index (CPI) and Producer Price Index (PPI), which tracks wholesale prices. Economists forecast another tepid read for University of Michigan Consumer Sentiment. We'll examine FOMC Minutes from the Fed's September meet for signs of future rate moves.
Summary
Spending on residential construction in August was up 0.6% over July, hitting an annual rate just shy of $880 billion. Best of all, spending on single-family home building was up 1.7% for the month.
According to CoreLogic's index, U.S. home prices posted a 3.7% annual price increase in August, the biggest since February. They forecast the annual price gain will come in at 3.4% in August next year.
Realtor.com reports homes have spent the same amount of time on the market as last year for the past four weeks. That shows there's still a pool of eager buyers making their way through the tight supply of homes for sale.
Can we sell yours?
So if you are in need of a listing agent, we would love the opportunity to see your home and meet you of course. My husband, Edward, and I, look forward to being the brokerage and team for you! You can reach out to us via email: [email protected] & [email protected] or telephone: 832-493-6685.
Read more:
If you are curious 'How to get more money for your home when listing it for sale', check out this blog post.
I hope you have found this blog post super helpful. If there is anything else we can do for you, including helping you sell (or buy) a home, I would be honored to assist. I hope you have a great day/evening. Cheers, E + J.
We are so happy you found our little corner of the interwebs. We look forward to y'all reaching out to us. We love to answer questions and welcome them. Recently we created some local maps, and you can download those by clicking the image/link above. Below, you will find an index of some very helpful information to assist you in learning more about the Houston suburbs. If you are relocating to our neck of the woods, we hope you reach out to us, because we would love to help you by being your local realtor and friend. Thoughtfully written for you. Hugs, Jo.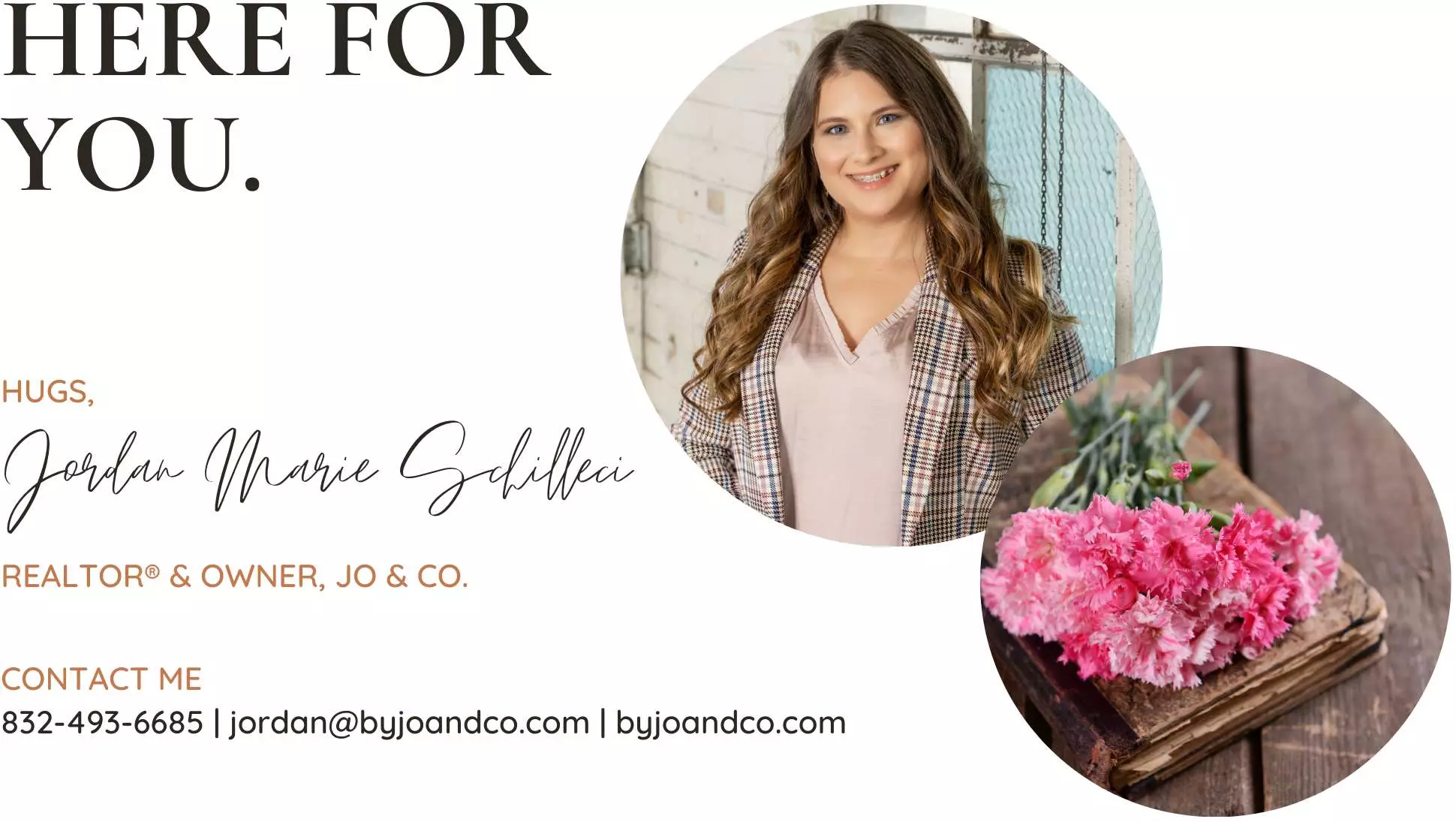 We are Waiting for You
If you are looking to relocate to the Houston Area, we would love to meet you, and hear your story. Below you will find all of my contact information, as well as some homes for sale in the area. We truly look forward to hearing from you! P.S. Don't forget to check out our YouTube Channel!

If you are overwhelmed..
Now if you are feeling overwhelmed on where you should plant your roots, I would love to talk to you. You can schedule a call with me by click this link: http://byjoandco.com/call or just send us an email: [email protected]. There are some amazing communities all over the Houston suburbs. In this post, https://search.byjoandco.com/blog/best-neighborhoods-in-houston/, I deep dive into all the different suburbs/neighborhoods that you might want to consider, and why. There are many resources here, so please reach out if you are curious what to look at next! Thank you for trusting us.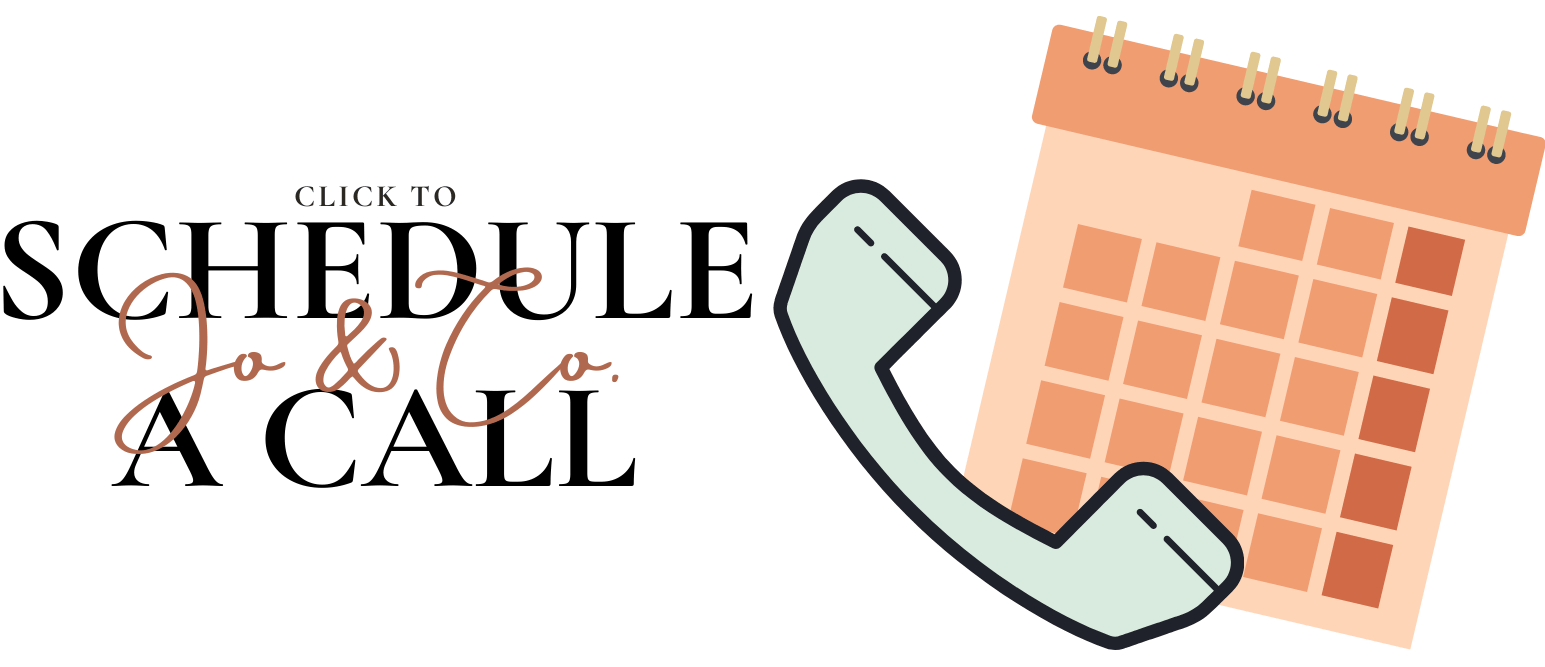 What next?!
• Navigate our Blog: https://byjoandco.com/categories-to-help-you-navigate-the-blog/
• Download our Moving to Texas ebook! http://byjoandco.com/movingtotexasebook.
• Download our Where to Live in Houston Texas ebook! http://byjoandco.com/wheretoliveebook.
• Browse our Ebooks and Relocation Guides: http://byjoandco.com/ebooks
• Schedule a phone call or appointment with us! http://byjoandco.com/appointment.
• Email us! [email protected].
• Looking for a buyer's agent? Fill out our buyer questionnaire! http://byjoandco.com/q.
• Ready to find your dream home? Search, http://search.byjoandco.com.
• Subscribe to our YouTube Channel: http://byjoandco.com/youtube.